NJ Soft Wash and Power Wash Specialists
Softwash Ranger is New Jersey's 1st SoftWash Systems™ 5-Star Professional with over a half decade of experience in soft washing, power washing, gutter cleaning, roof stain removal and so much more. With our New Jersey Soft Wash services, we keep your property clean and shining like new. We know that we are only as good as our last pressure washing or soft washing job, so every soft wash project, no matter the size, is treated with our top-level care. Our experienced employees will always advise you on what cleaning options best fit your needs.
The Experts Northern New Jersey Relies On
With over half a decade cleaning everything from roofs to driveways, to house siding, Softwash Ranger has become THE go-to pressure washing and exterior cleaning company in Northern New Jersey. With our state of the art equipment, rigorous training standards, cutting edge soft washing techniques, and dedication to a job well done, we can make your home or business property shine like new! But don't just take our word for it check out our reviews below:
Our Featured Service – Softwash Roof Cleaning, NJ
Your North New Jersey home is one of the most important investments you have, and maintaining it is an important part of ownership and preserving its value. North New Jersey Roof Cleaning is not just about cosmetic appearance. There is real danger to your roofing system if Gloeocapsa Magma is present.
Read More
Soft Washing vs. Power Washing:
Soft washing uses only 100 psi – the low pressure application allows us to efficiently and safely clean softer surfaces such as vinyl or roof shingles.
Traditional power washing uses at least 3,000 psi to remove build up and stains on harder surfaces such as concrete sidewalks, driveways and parking lots.
Soft washing requires less pump power to achieve low pressures. While still cleaning effectively, this saves on fossil fuels, which is great for the environment.
While power washing requires much more power, we use only environmentally friendly products to help protect the environment and your landscaping!
Soft washing is ideal for removing 100% of the bacteria, mold, and dirt on sensitive surfaces such as the exterior of your home and your roof.
Power washing provides a similar effect, however, due to the high pressure it is best suited to harder surfaces such as concrete, fencing, and decks.
Two Exterior Cleaning Methods – One Goal
Roof stains, siding, wood decks and fences, paver stones, flat concrete and beyond…soft washing is the next evolution for the exterior cleaning of your property. Soft washing utilizes zero destructive pressure and involves the application of gentle chemicals that thoroughly cleans and sanitizes surfaces. At Softwash Ranger, we are on the cutting edge of exterior cleaning technology. Our SoftWash Systems™ process utilizes bi-degradable chemicals, 1/3 the water of power washing, lasts four to six times longer, and is 12 volt powered/fossil fuel free. Read More
Power Washing, a process that has been in use now for over 100 years, is traditionally used more for restoration and deep cleanings on hard surfaces. Sometimes a cleaning project needs to utilize water under high pressure to achieve the best results. Projects like paint preparation, oil stain removal from concrete, gum removal from parking lots or driveways as well as certain industrial cleanings need the deep cleaning strength that power washing delivers. Read More
Why Hire Softwash Ranger
With over 20 combined years in the soft washing, pressure washing, construction, siding, roofing and home improvement industries we have deep understanding of methods and materials that we typically clean. This extra understanding lets us determine the safest way to get your property clean beyond belief. At Softwash Ranger, we know that your home is your castle, which is why we take extra special care so that no damage befalls your property. We know the things we clean are often the largest investments you will ever make and deserve to be treated with the most attention to every detail. Using our state of the art equipment and meticulous cleaning techniques, we guarantee our results to clean every surface to the best of our ability, every time, no matter what the job or the method. Read More
SoftWash Systems™ 5-Star Professional
Before they can ever put on our uniform, our employees must undergo strict education and training with SoftWash Systems™. Each employee has been certified for their job description and trained to deliver the best soft washing results in the most efficient way possible. Yearly, our employees go through continuous education to reaffirm their qualifications.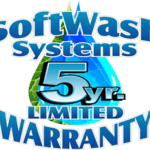 Making sure that your home is only serviced by the very best technicians in Northern New Jersey, is just another way we deliver an amazing experience every time.
SoftWash SystemsTM 5-Star Professionals have made the commitment to use SoftWash Systems™ equipment, chemicals, certifications and training in their day to day softwashing operations. This requires a high level of equipment from a company that strives to be the absolute best in their industry. This is no small task. We make not only the commitment of purchasing the equipment and chemicals but also adhere to a 50-point standard for operating their business, and submit themselves to third-party verification for insurance, licensing and criminal background checks. See Ask the Seal.
Because of this rigorous qualifying process, Softwash Ranger has been awarded the ability to participate in SoftWash Systems™ 5-Year warranty program on roof cleanings. SoftWash Systems™ roof cleaning chemicals have been tested in a major roof manufacturer laboratory and has been in use for 22 years. SoftWash Systems™ equipment and chemicals have been used nationwide and are responsible for softwashing in excess of 70,000 roofs. SoftWash Systems™ 5 year warranty includes protection against the chemicals, equipment, or employees damaging the roofing surface, and in 22 years of use, there has never been a claim made against damages to roofing surfaces.
Remember Seasonally We Get Busy, So Call Us Today To Get On Our Schedule!