Preventing Ice Dams From Forming on Your North New Jersey Home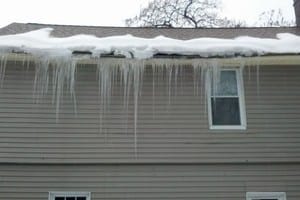 At Softwash Ranger, we are the preferred local North New Jersey power washing company which means that we also take care of ice dams. However, what we actually would rather do is help homeowners avoid having them form in the first place.
In order to better understand how to prevent them from developing, it starts with comprehension about what they are and how they form. This will make it easier to know how to avoid them, whenever possible.
Get Proactive About Ice Dam Prevention
An ice dam poses a serious threat to your roof and the interior of your home. So what exactly is it?
When snow melts on your roof and refreezes as ice on the edges of the roof, this is an ice dam. This is a common occurrence when the center of your roof is warmer then the edges.
Why is this a big deal? Even healthy roofing may not be able to withstand water that backs up and gets under the shingles. Water intrusion is among the worst things that can happen to your roof. This leads to issues like mold and rot and can compromise the very structural integrity of your roof.
So, how can you prevent it? The number one way to avoid this difference in roof temperatures is with adequate insulation. If you have ever experienced an ice dam resulting in the need for roof snow removal, make it a point to get your insulation updated and upgraded.
If you are in need of a team to address your North New Jersey ice dam removal, contact our pros for the best in safe and effective service.
If you are looking for an Ice Dam Removal Service in North New Jersey then please call 844-438-7638 or complete our online request form.
NJ SOFT WASH AND POWER WASH SPECIALISTS
Softwash Ranger is New Jersey's 5-Star Exterior Cleaning Professional with over a half decade of experience in soft washing, power washing, gutter cleaning, roof stain removal and so much more. With our New Jersey Soft Wash services, we keep your property clean and shining like new. We know that we are only as good as our last pressure washing or soft washing job, so every soft wash project, no matter the size, is treated with our top-level care. Our experienced employees will always advise you on what cleaning options best fit your needs.