Vinyl Siding Softwash in Bergenfield, NJ
Vinyl Siding Softwash in Bergenfield, NJ
This customer had their vinyl siding and brick home softwashed. They contacted Softwash Ranger through Angie's List. They were very pleased with the results, made their home look like new.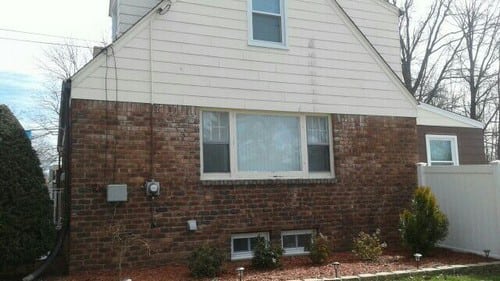 ---
Articles & Tips on Vinyl Siding Softwashing
SOFT WASHING SERVICES IN CEDAR GROVE NEW JERSEY
Soft washing is a process that involves using eco-friendly and environmentally safe chemicals to wash your home or home features. Unlike pressure washing or power washing, soft washing uses a low rinse system that will rid your home of contaminates without harming the structure of your house.Read More

WHY YOU SHOULD HAVE YOUR ALPINE, NJ HOME PRESSURE-WASHED BEFORE HAVING THE EXTERIOR PAINTED
Once you've made the decision to paint your home, you don't want anything getting in the way as that will lonely hold things up. Once you've bought the exterior paint, the brushes, the ladders and all other equipment, it's time to start thinking about Alpine power washing.Read More

---
Vinyl Siding Softwash
Brick Home Softwash
Siding Washing
Siding Cleaning
---
---
"Mario and his crew did a great job cleaning the vinyl siding of my home. He went above and beyond to make sure my old siding could look as good as it possibly could. Highly recommended."

~Ann, Bergenfield, NJ
---
If you're looking for a professional Vinyl Siding Softwashing in Bergenfield, NJ, then please call 844-438-7638 or complete our online request form.