Slate Roof Cleaning In South Orange, NJ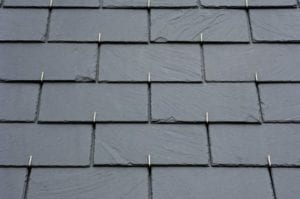 Reaching as far back as the American Revolutionary War period (1775-1783), slate roofs still grace new homes of today. A slate roof is a classic roof style choice that will probably be around for centuries more.
Quarrying for slate wasn't coming in the U.S. until the late nineteenth century. Slate has been found on archaeological excavations in Virginia at Jamestown that dates from 1625-1650 and 1640-1670. New York and Boston building ordinances in the seventeenth century recommended slate or tile roofs to ensure fireproof construction.
On historic buildings of today, slate is commonly found. It came in standard, textural, and graduated types that were available according to the effect desired. There are specific ways this historic slate material should be handled, particularly in documentation and methods of preservation.
Slate roofs on historic buildings need to be handled carefully when repairing, replacing, and cleaning. This is because they are a critical design feature and can't be duplicated using substitute materials.
They should be repaired, maintained, and cleaned effectively to extend their serviceable lifetime. While high quality slate is still available from reputable quarries, it's always better to repair it whenever possible rather than replacing because it's so hard to match with new materials.
Maintaining the slate roof is important whether the slate is on a new home or historic older home. Part of the maintenance is to examine and clean the roof regularly. Cleaning gutters is imperative, and should be done at least two times during fall and once in early spring.
When cleaning a slate roof, extra special care needs to be taken in order not to damage the slate on historic or older buildings and homes. Even on newer homes, one needs to be careful just walking on it, distributing weight on the lower-middle of the exposed part of the slate unit.* Older slate is best cleaned from a ladder with professional techniques.
Professional slate cleaning companies know that certain cleaning materials can discolor the slate. This means you only want experienced professionals working on them to get them cleaned up. The surfaces are slick and dangerous, which means homeowners shouldn't attempt to clean their slate roof top themselves.
Softwashing techniques are necessary when cleaning slate roofs, especially older roofs. Softwashing is a type of cleaning method that uses a mixture of detergents to safely wash the more delicate exterior surfaces of your home.
A combination of biodegradable chemicals are used that are friendly to the environment and won't harm the slate or your vegetation . Softwashing is the most effective way to clean a slate roof.
If you own a slate roof on an historic building or home, or a new slate roof on your modern home, you'll need our professional softwashing services here at Softwash Ranger. Just give us a call at the number below to learn more. And be sure to ask about any special discounts or promotions we may have going on at the time of your call.
When you need Slate Roof Cleaning in South Orange, NJ or other Pressure Wash Services, call 844-438-7638 or complete our online request form.
NJ SOFT WASH AND POWER WASH SPECIALISTS
Softwash Ranger is New Jersey's 5-Star Exterior Cleaning Professional with over a half decade of experience in soft washing, power washing, gutter cleaning, roof stain removal and so much more. With our New Jersey Soft Wash services, we keep your property clean and shining like new. We know that we are only as good as our last pressure washing or soft washing job, so every soft wash project, no matter the size, is treated with our top-level care. Our experienced employees will always advise you on what cleaning options best fit your needs.