Roof Snow Removal Keeps Santa Safe On Jersey Roof Tops!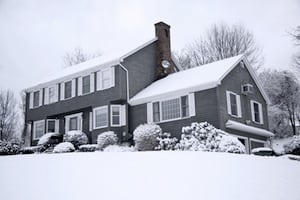 The last thing you want to have to tell your kids this year is that Santa couldn't make it to your house because of too much snow on your roof tops!
We all know how important it is for the young children in our families to get presents from Santa Claus every year. Goodness knows that if a child is naughty, Santa won't put them on the gift list and the little one will have to face an empty stocking if they've been very bad.
But everyone knows that Santa gives toys and candy to all good little girls and boys. But, what if he can't get around on your roof,because of ice dams and roof snow , Dad and Mom?
Santa has lots of magical tools at his disposal, like getting really skinny to fit down the chimney, and his reindeer and sleigh that fly, his magical deer Rudolph with the bright, shiny nose, and all the tiny elves who help him build toys.
But there's no magic Santa possesses that can stop him from sliding once he starts to slip off the edge of our roofs.
Ice Buildup
Here in New Jersey, we experience plenty of snowfall every year. But what really makes snow accumulate on the roof is heavy snow fall.
The ice buildup forms a ice dam. The water will slowly creep up and under your shingles and makes its way into your home. Once the ice dam is there, it's only a matter of time before the roof becomes too slippery and dangerous, even for Santa Claus.
The roof on your home just won't hold all that snow and ice. It could get so heavy that once Santa arrives, all it will take is for him to step one foot out of the sleigh, and CA-PUUT! Down it all comes upon you and your kids as you sleep.
There are plenty of ways for you to still get your roof snow removed from your roof. If there is an ice dam, you will need to have that removed as well.
At Softwash Ranger, we don't want any child to go without Christmas gifts from Santa because of roof snow and ice dam dangers! Our experienced service technicians can come to ensure the removal of this buildup.
Be sure to check out your roof for ice, and roof snow build up, give us a call and we can remove it all.
We want to help you to keep Santa safe this year so your little ones will get everything they asked from him. Goodness knows, we all know they've been good!
If you are needing snow removal for your New Jersey Roof, please call Softwash Ranger at 844-438-7638 or fill out our online request form.
NJ SOFT WASH AND POWER WASH SPECIALISTS
Softwash Ranger is New Jersey's 5-Star Exterior Cleaning Professional with over a half decade of experience in soft washing, power washing, gutter cleaning, roof stain removal and so much more. With our New Jersey Soft Wash services, we keep your property clean and shining like new. We know that we are only as good as our last pressure washing or soft washing job, so every soft wash project, no matter the size, is treated with our top-level care. Our experienced employees will always advise you on what cleaning options best fit your needs.