Ice Dam And Roof Snow Removal, Softwash Ranger North New Jersey Expert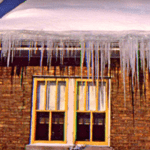 Homeowners of North New Jersey, are you protecting your home in winter through expert roof snow removal and prevention of ice dams and ice build up on your roof? Roof collapses caused by snow build up during recent winters have played havoc with building and home owners, as roofs buckle and give way during periods of heavy snowfall. Lack of effective snow removal is the cause of these serious roof collapses.
Many homeowners think that rooftop snow will melt away or be blown off the roof by the wind or that they can remove the snow themselves. To the contrary, snow packed roofs do not take care of themselves and can potentially lead to ice dams. Ice dams and ice build ups are dangerous and tricky, and trying to get rid of them without professional contractor services offered by Softwash Ranger is a risk that most homeowners do not want to face during miserable winter weather.
New Jersey homeowners should be keenly aware of what they face again this year. Each winter, heavy snowfall leads to roof snow accumulation and ice build up. This winter is quickly on its way, and if last year is any indication, residents need to be prepared. Recent snowfalls in the Northeast have been unusually heavy, resulting in multiple roof collapses and considerable property damage. The best way to deal with this winter problem safely is to work with professional snow removal contractors and by contacting Softwash Ranger at 844-438-7638 before snow and ice on your roof reaches dangerous levels this year.
Many homeowners simply are not aware that heavy snowfall on their roofs can lead to catastrophic results. Roof collapses from snow build up catch many people by surprise and residents are lucky to escape injury when they occur. Aside from property loss, personal injury is always a risk when residents attempt snow removal and ice dam removal on their own. Serious accidents are inevitable when homeowners get up on a roof thinking it's safe to remove snow on their own. In addition, carport roofs and garage roofs can collapse as well, posing additional safety risks and vehicle loss and damage.
With New Jersey homes at high risk for ice dams, what exactly is an ice dam and how does an ice dam produce potentially catastrophic conditions on your roof? Ice dams are caused by heat loss from your house. Heat rises from the house, causing melting on the roof. When this melting occurs, water runs down to the colder edge of the roof, and freezing takes place, creating a dam. With accumulating roof snow, the ice dam may expand. This dam can prevent water from draining off your roof. Water can then back up and cause damage underneath shingles or can find other ways into your home, causing further damage.
Professional ice dam removal is the only way to effectively and safely deal with this problem. Ice dams are damaging and have posed serious risks again and again for unsuspecting home owners.
North New Jersey residents, are you prepared for snow packed roofs this winter? Do you know what to do if snow accumulates on your roof this winter? Are you prepared to protect your home? If you are a North New Jersey homeowner, you need to be aware of the problems that could result from lack of snow removal. Consult with Softwash Ranger at 844-438-7638 for safe and professional snow and ice dam removal information. The professionals at Softwash Ranger are the experts when it comes to snow and ice dam removal in North New Jersey. Take advantage of professional expertise and avoid damage to yourself, your family, or your property. Ice dam removal is essential to a safe roof structure. The most efficient way to secure ice dam removal and roof snow removal is by consulting with a snow removal service. In Northern New Jersey contact Softwash Ranger at 844-438-7638, your Northern New Jersey experts in snow removal.
By taking advantage of the reliable ice dam removal and snow removal services available at Softwash Ranger you are protecting your family and your property. Roof damage is what you want to avoid this winter and Softwash Ranger can offer you reliable protection. Heavy precipitation in the form of snow and ice is quickly on its way. The Northeast region has been the target of continual heavy winter precipitation and North New Jersey homeowners need to be prepared for weather that results in ice dams and roof snow. Remember, trying to remove roof snow yourself is risky business. Let the experts at Softwash Rangerkeep your home safe this year.
In case you're not familiar with methods that effectively remove snow on your roof, contact Softwash Ranger and find out about the methods that are used and recommended for the problem of ice dam removal and snow removal. As a North New Jersey resident, don't hesitate today to contact Softwash Ranger at 844-438-7638 and find out about our winter weather services.
Do not become a victim of ice dams this winter. Protect your roof and your property now. Ice dams are not to be ignored. They are extremely hazardous. Let the experts use effective and safe methods to reliably remove ice dams from your roof and to solve your snow removal problems this winter. New Jersey residents are at a distinct advantage in that they have the professional services of Softwash Ranger at their disposal. Softwash Ranger are the experts to contact at 844-438-7638.
When you need Ice Dam And Roof Snow Removal or other Pressure Wash Services in North New Jersey, call 844-438-7638 or complete our online request form.
NJ SOFT WASH AND POWER WASH SPECIALISTS
Softwash Ranger is New Jersey's 5-Star Exterior Cleaning Professional with over a half decade of experience in soft washing, power washing, gutter cleaning, roof stain removal and so much more. With our New Jersey Soft Wash services, we keep your property clean and shining like new. We know that we are only as good as our last pressure washing or soft washing job, so every soft wash project, no matter the size, is treated with our top-level care. Our experienced employees will always advise you on what cleaning options best fit your needs.