Professional Rooftop Snow Removal Service
Roof Snow Removal – Why it is Important to Call in a Professional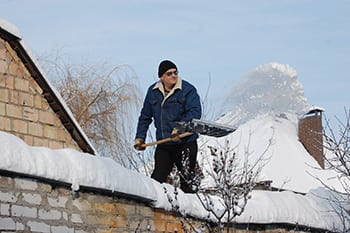 Living in North New Jersey means being familiar with winters filled with blankets of thick snow. While it is certainly pretty to look at, it is not much fun dealing with. The primary focus is always to clear away roads, walkways and driveways.
Yet, what many people forget to take into consideration is that the snow that has collected up on your rooftop poses another type of possible problem. Yet, the last place that you need to go is on your own, in an attempt to try and address the need for snow removal. After reading more about the dangers of snow on the roof, and attempting DIY snow removal, you will have a new perspective as to why you should use a professional rooftop snow removal service.
What's the Big Problem With Rooftop Snow?
There are several issues that can result from a heavy buildup of winter snow. The most obvious threat is the possibility of your roof collapsing and caving in on you and your family. Even if there are no resulting injuries, this is the type of event that will lead to serious structural problems with your roof, and possibly your home.
Other reasons you will want to rid your roof of snow:
Snow on the roof can also result in ice dams. This is a formation that occurs when differences in roof temperatures cause ice to form on the edge and snow blocked behind the ice to melt. The resulting water gets pushed back under your shingles causing roof damage and leaks.
Heavy snow is also dangerous for anyone passing by underneath the rooftop. When the snow does finally start to fall from the roof, it can seriously injure someone. Not to mention, this release of heavy snow can damage your property below, such as fencing, hardscapes or other elements of your landscaping.
When your home is covered in a thick blanket of snow, it also causes your heating system to have to work that much harder. This not only results in a drastic financial spike in your energy bills, it can be quite taxing for your heater. This can result in repair needs or, even worse, the need for premature replacement.
All of that being said, you need a professional to address your need for snow removal.
Getting Professional Help
Make the wise choice and call on Softwash Ranger to handle all of your roof snow removal. We use techniques that are safe and effective, and will have your roof free of snow, in no time at all. Don't put your safety and well-being at risk, and certainly do not leave snow up there to cause problems – just call on professional rooftop snow removal service.
If you are looking for Professional Rooftop Snow Removal Service Service in North New Jersey then please call 844-438-7638 or complete our online request form.
NJ SOFT WASH AND POWER WASH SPECIALISTS
Softwash Ranger is New Jersey's 5-Star Exterior Cleaning Professional with over a half decade of experience in soft washing, power washing, gutter cleaning, roof stain removal and so much more. With our New Jersey Soft Wash services, we keep your property clean and shining like new. We know that we are only as good as our last pressure washing or soft washing job, so every soft wash project, no matter the size, is treated with our top-level care. Our experienced employees will always advise you on what cleaning options best fit your needs.