Why You Need a Pro to Handle Your Ice Dam Removal Services
What is a Ice Dam?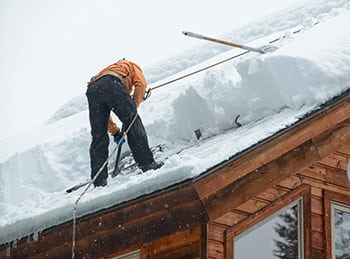 One of the hassles that comes with living in North New Jersey is dealing with ice dams when the weather turns cold. An ice dam is a ridge of ice that forms along the bottom edge of your roof and prevents melting snow from being able to drain from the rooftop. This causes extra weight but, more importantly, it causes water to back up and seep under shingles, leading to leaks and water damage inside the home.
Obviously, this of great concern because it can lead to serious damage of your walls, insulation, ceiling and roofing. The only solution is ice dam removal, yet this is not something that is a quick or easy fix, nor is it something that you should try to address on your own. In fact, you should carefully select the expert you choose to work with in order to have this service need addressed.
How Does Ice Dam Removal Work?
Although ice dam removal is not something that you should attempt to take care of, on your own, it doesn't hurt to know more about how the process works:
The first step is to actually shovel away snow from the roof in an effort to expose the ice dam. This also creates a space, free of snow, for the professional to stand on.
Second comes the steamer. The steamer is de-winterized in order to be prepared for use. Although this device uses cold water, it quickly turns it into heated steam. The steam is applied to the ice dam in an effort to break the ice apart.
Only plastic shovels and roof rakes should be used for clearing away snow from your rooftop. This minimizes the chance of any damages occurring. Also, keep in mind that only steam should be used for breaking away ice.
While the steamer may look like a pressure washer nozzle, you will notice there is no trigger present. This allows steam to come out without the need for pressurization. Anything more severe could cause serious damage to your rooftop.
Getting the Help You Need
When you find yourself in need of a professional to address your need for ice dam removal, the only name that you need to know is Soft Wash Ranger. Ice has met its match, when it comes to our skilled team of experts.
We offer the finest in same-day service for ice dam emergency service and will quickly have your rooftop free and clear of this buildup. Don't let winter weather damage your roof or put anyone in harm's way, just call on us to get the job done.
If you are looking for Ice Dam Removal Service in North New Jersey then please call 844-438-7638 or complete our online request form.
NJ SOFT WASH AND POWER WASH SPECIALISTS
Softwash Ranger is New Jersey's 5-Star Exterior Cleaning Professional with over a half decade of experience in soft washing, power washing, gutter cleaning, roof stain removal and so much more. With our New Jersey Soft Wash services, we keep your property clean and shining like new. We know that we are only as good as our last pressure washing or soft washing job, so every soft wash project, no matter the size, is treated with our top-level care. Our experienced employees will always advise you on what cleaning options best fit your needs.