Why You Should Have Your Alpine, NJ Home Pressure-Washed Before Having the Exterior Painted
Once you've made the decision to paint your home, you don't want anything getting in the way as that will lonely hold things up. Once you've bought the exterior paint, the brushes, the ladders and all other equipment, it's time to start thinking about Alpine power washing.
You may have hired someone for the job already. But if you're looking to have a quality, lasting job done, hiring a professional will do you better.
1. Power-washing your home's exterior will make it easier for the paint to stay on your walls.
Power washing your exterior walls will get rid of a good amount of build-up. There's dirt and particles t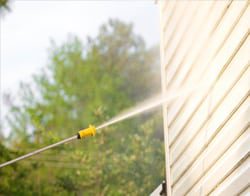 hat build up, but also loads of mold and mildew too that can cause your exterior to have permanent stains.
When you paint over the grime, it's not going to take very much before the paint begins to chip and peel. Rain and heat will take care of that pretty quickly. You paid for the exterior paint which was an investment so protect the one you're painting with Alpine power washing.
2. Your garden hose just will not get the job done.
Alpine power washing is one job that you simply won't be able to create a DIY version of. An ordinary hose just won't be able to provide you with the pressure you need. And a power washing kit will cost you just as much as an actual professional service would.
The mold and mildew a lot tougher than you might think to get off. Power-washing is the only way you'll be able to take care of enough build-up to have a positive effect. It will even take a professional a few tries to remove it but once it's gone, it's gone for good in most cases.
3. Professionals know what to do.
Once you've already hired a professional power washing contractor, it's time to put them through the test. Asking questions never hurts. A reputable one will have the answers that you're looking for.
Many pressure washing contractors will use an environmentally safe cleaning solution on your exterior, driveway, fence and deck. This way no one gets poisoned, your grass stays green and your flower beds also stay protected.
Why not do the job yourself? Of course you can get your own pressure washing equipment and try to do this job on your own. But professionals know exactly how much pressure to use. Too much pressure could result in broken windows and personal injury.
Call the Alpine pressure washing professionals today at Softwash Ranger. There's a way to keep your exterior safe before and after you have it painted.
If you are looking for a Alpine power washing company then please call 844-438-7638 or complete our online request form.
NJ SOFT WASH AND POWER WASH SPECIALISTS
Softwash Ranger is New Jersey's 5-Star Exterior Cleaning Professional with over a half decade of experience in soft washing, power washing, gutter cleaning, roof stain removal and so much more. With our New Jersey Soft Wash services, we keep your property clean and shining like new. We know that we are only as good as our last pressure washing or soft washing job, so every soft wash project, no matter the size, is treated with our top-level care. Our experienced employees will always advise you on what cleaning options best fit your needs.