What's That Black Stuff On My Roof?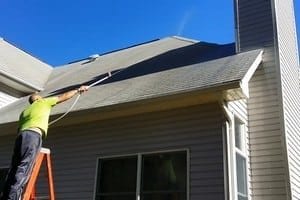 There are dirty roofs that are being piled high with snow in the Cedar Grove area of New Jersey, and it's not because Santa's reindeer left footprints all over our roof tops! Dirt and stains on roofs can be seen from streets and neighborhoods as you drive by looking at homes after the snow melts away. If you've noticed roof stains on homes, have you ever asked yourself what they're from?
Many times, homeowners think that the stains on their roofs comes from building materials that degrade and end up washing down the roof when it rains. But the little known fact is that these roof stains are often living organisms. Algae is an organism that looks like roof stains when it grows on the roof surfaces.
Gloeocapsa magma is an algae that causes black stains on the roof surface. This organism is unhealthy and degrades the structure of the roof shingles. Algae feeds on the limestone in the asphalt shingle, using it as food to reproduce. Growing black stains are almost always algae growth.
Some species of algae make the stained area look green, some yellow, and some reddish orange as well. The Cedar Grove roof looks dirty, and will remain so until the algae is killed and removed. You can be sure that no matter what type of algae is growing on the roof, it's not good for the structure. Pressure washing is effective at removing algae from roofs, as well as stains for any kind of degradation of building materials.
Whether it's winter, fall, spring, or summer, algae can grow if the climate is right. When it's too cold out, you won't see algae growing on roofs, but when it starts to warm up you can begin to see it taking hold. Algae grows well on roofs that are shaded by the sun, warm, and moist.
One of the most effective ways to remove algae is with pressure washing, but for roofs a softwashing technique is used. Softwashing in Cedar Grove water pressure is a professional technique that uses commercial strength pressure washing equipment. It's still stronger than you can get from power washing equipment purchased at a home improvement store. But the softwashing technique is appropriate for roof shingles that could otherwise get damaged just from cleaning.
If you're one of the homeowners in the Cedar Grove area who have roof stains, you can call us at any time for help. We have full services year round, with winter services centered on Snow and Ice Dam Removal in Cedar Grove. We also apply salt and other deicing services. Whether it's pressure washing your roof stains, decks, patios, siding, or sidewalks, or it's getting rid of snow and ice, our technicians are ready to help you.
If you need Pressure Washing for Roof Stain Removal, please call 844-438-7638 or complete our online request form.
NJ SOFT WASH AND POWER WASH SPECIALISTS
Softwash Ranger is New Jersey's 5-Star Exterior Cleaning Professional with over a half decade of experience in soft washing, power washing, gutter cleaning, roof stain removal and so much more. With our New Jersey Soft Wash services, we keep your property clean and shining like new. We know that we are only as good as our last pressure washing or soft washing job, so every soft wash project, no matter the size, is treated with our top-level care. Our experienced employees will always advise you on what cleaning options best fit your needs.