What You Need to Know About Morristown Ice Dam Removal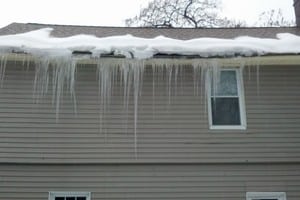 More than likely, if you have lived in the Morristown area for any length of time then you are already aware of what an ice dam in Morristown is. But, in case you are not already familiar with this winter related condition it helps to know a little more about it. This is the collection of ice on the edge of your roof that acts as a trap for snow. Obviously, this creates a potential hazard, for a number of reasons.
For one thing, this build up of snow can become heavily weighted down on your rooftop, creating a high risk of your roof potentially collapsing. Also, when snow does not have the ability to naturally fall off of your roof and piles high, when that dam gives away you had better hope no one is underneath the large pile of snow that finally falls.
The Importance of Removal
An ice dam in Morristown forms when the various temperatures of the roof impact the falling snow. Above 32 degrees melts the snow but when this water reaches the edge where the temperature is still below freezing, an ice dam forms. The longer this process is able to continue the bigger the ice dam that builds up. In order to remove the possible threat these conditions pose, you need to have your ice dam removed.
Contrary to popular belief, there is a lot more to taking care of this problem than simply poking at the ice build up with a stick. The process involves exposure of the entire dam, creating a clearing for standing and using then using a steamer and de-antifreeze in order to clear away the dam. All of this must also be done while practicing important safety measures in order to protect your home and belongings, as well as everyone involved. Make sure that whoever you entrust to take care of this job for you has the training, experience and equipment needed in order to get the job done.
Call in the Experts
At Softwash Ranger we take all of the work that we do here seriously and that is evident by the results that we get. We believe in offering only the best when it comes to the work we deliver to our customers. Give us a call today and let us take care of you. Don't take chances when it comes to the work you need for your home. This winter, when you need ice dam removal for your Morristown home, let our team take care of you.
If you are looking for an Ice Dam Removal Service in Morristown then please call 844-438-7638 or complete our online request form.
NJ SOFT WASH AND POWER WASH SPECIALISTS
Softwash Ranger is New Jersey's 5-Star Exterior Cleaning Professional with over a half decade of experience in soft washing, power washing, gutter cleaning, roof stain removal and so much more. With our New Jersey Soft Wash services, we keep your property clean and shining like new. We know that we are only as good as our last pressure washing or soft washing job, so every soft wash project, no matter the size, is treated with our top-level care. Our experienced employees will always advise you on what cleaning options best fit your needs.