How to Choose a Roof Cleaning Contractor in North Caldwell New Jersey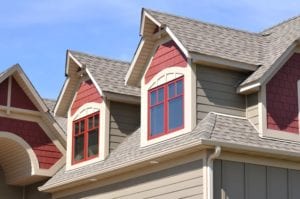 In order to keep your home looking new or keep it safe from damages done by ice storm or snow buildups, you'll want a professional North Caldwell New Jersey roof cleaning contractor. Roof cleaning plays a major role in ice removal, removing snow, ice-dam removal, and debris or stain removal.
With a freshly cleaned roof, your home's roof will be fresh and clean again which will only add to your curb appeal. All sorts of materials can dirty your roof, and many things can cause stains such as algae growth, mold, breakdown of roofing materials, tree debris, bird or rodent messes, and more.
Finding the right cleaning company is important when it comes to taking care of your roof cleaning needs. And it isn't always easy, especially in an area like ours with so many contractors to choose from. But you can't go wrong if you've chosen a company who has already shown you reasons for trust.
A reputable roof cleaning contractor will be proud of their work and should be happy to provide you with references. So this will be one of the first questions you'll want to ask potential contractors. They also should have quite a bit of knowledge about their job, so querying them on the process shouldn't be a problem.
If the contractor acts defensively or seems to be offended or unable to communicate about it for some reason, you could have a problem with their professionalism. These things are a sure sign that they might have some things to hide.
Here are some other questions you can ask contractors…
What's the name of the company and the address?
Are you bonded, do you carry insurance?
Do you do this full time or part time?
How long have you been in the roof cleaning industry?
How long have you been doing this particular service?
Do you warrant your workmanship?
Are you licensed or certified for this particular service?
Do you have references I can call or photos available?
What do you normally do when handling customer complaints?
May I have a written estimate please?
If the contractors you contact can't satisfy you with their answers, you'll want to keep looking. A company who can answer these questions positively will most likely be your best bet for reliable service.
When checking references, don't hesitate to make those calls. Otherwise, you'll never really know what their customers thought of them. And it's also possible the information is fake. So many people don't take that extra step to verify references, but it's actually one of the most important questions to have answered.
If they've spent years in the business, they'll have no problem giving you a list of references. Think about it, if you've worked for five to ten years in an area, you'll have had many, many customers to ask if they'd mind giving out references when called! It would be rare in that case if you couldn't get at least five to ten customers for your list.
The proper certification or licensure along with insurance means they have coverage if something goes wrong on their end. And a contractor that warrants their work, or offers a 100% satisfaction guaranteed on workmanship will be able to serve you without your worrying whether or not they will get the job done right.
All in all, don't be afraid to ask questions, and if the answers aren't to your liking, you'll be able to find a company that is very reputable in New Jersey. Give us a call here at Softwash Ranger, and you'll see why we are a leading roof cleaning contractor that has been serving the North Caldwell area for years.
If you are looking for a North New Jersey Power washing company then please call 844-438-7638 or complete our online request form.
NJ SOFT WASH AND POWER WASH SPECIALISTS
Softwash Ranger is New Jersey's 5-Star Exterior Cleaning Professional with over a half decade of experience in soft washing, power washing, gutter cleaning, roof stain removal and so much more. With our New Jersey Soft Wash services, we keep your property clean and shining like new. We know that we are only as good as our last pressure washing or soft washing job, so every soft wash project, no matter the size, is treated with our top-level care. Our experienced employees will always advise you on what cleaning options best fit your needs.