Caldwell, NJ Patio Cleaning Done Right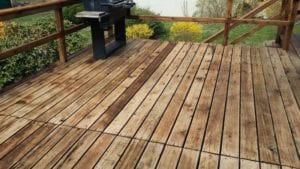 This is a great time of year here in New Jersey when we start to see the sun shining more and the temperatures rising to a degree we can tolerate. Warm summertime is right around the corner, which means spring is in the air.
Many homeowners are outside their homes doing plenty of clean up chores, including getting rid of debris on rooftops, patios, porches, decks, driveways, and lawns. And many businesses are cleaning up the exteriors of their properties as well.
In an area where we see a lot of winter months, it makes the warmer season all that much more precious to each of us. So the summertime preparations are fun and enjoyable to those of us who don't tolerate such degrees of cold and being cooped up for the long winters.
Winter brings a lot of snowfall and ice. And along with all that is plenty of dirt and grime caused by our atmosphere and the streets our vehicles constantly drive on.
The snow can get pretty dirty in areas, and everything underneath the snow will be covered in all that soot when the snow melts away. Buildup of grime and soot means stains. That means plenty of porch stains, sidewalk stains, driveway stains, and roof stains.
Along with stains comes debris. Debris is all the other particles like leaves, tree branches, dirt, acorns, dead organic matter, and more. It gets pushed into cracks and crevices, mounded in little piles on the roof, and pushed up along the edges of our home.
There's plenty to clean on the exteriors of our homes. And that's what makes our services popular here in New Jersey. As the area's premier softwashing and pressure washing experts, we'll be busy cleaning up the homes and businesses throughout the area.
Patio Cleaning is an area of the home that can be difficult to get clean. Just sweeping alone is fine for regular upkeep, and rinsing the patio off with a garden hose is great too. But over time, with all the weather conditions constantly hammering the surfaces, your patio will look dirty no matter how you try to clean it.
This is true particularly if your patio is made of just concrete. The surface is very porous many times because the seal has worn off. Your patio may not have ever been sealed, which means even worse problems with stains over time. The concrete on your patio can be so dirty it simply turns black. But unfortunately, it doesn't just turn black, it streaks black until all the streaks meet to create a solid looking stained surface.
Also, a huge problem in humid areas can be the formation of algae on the surface of your patio. This substance will continue to overtake your home's surfaces if your home is shaded. Many homes in our area suffer from algae.
The good news is that even if your patio is hard to get clean, we have the tools necessary to get it done efficiently for you.
At Softwash Ranger, your number one Pressure Washing company in Caldwell, NJ, we use a softwashing technique on more delicate surfaces such as natural stone and other areas where damage from a full powered pressure wash isn't appropriate. With green only chemicals that are friendly and safe, we apply a softer pressure wash which is not only safer but lasts longer than a traditional power wash.
If you would like to learn more about Caldwell, NJ Patio Cleaning, please call 844-438-7638 or complete our online request form.
NJ SOFT WASH AND POWER WASH SPECIALISTS
Softwash Ranger is New Jersey's 5-Star Exterior Cleaning Professional with over a half decade of experience in soft washing, power washing, gutter cleaning, roof stain removal and so much more. With our New Jersey Soft Wash services, we keep your property clean and shining like new. We know that we are only as good as our last pressure washing or soft washing job, so every soft wash project, no matter the size, is treated with our top-level care. Our experienced employees will always advise you on what cleaning options best fit your needs.