Why You Need Basking Ridge Nj Deck Cleaning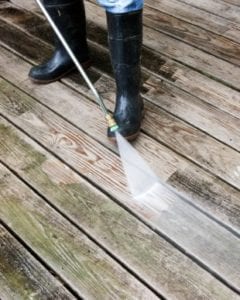 When you build a Basking Ridge, New Jersey deck, or inherited it when you bought your home, you can expect it to last for a while, but only if it has been or is being taken care of properly.
Many decks on homes are several decades old. The materials just seem to last and last. And one reason for that may be the because the homeowner has kept up the deck well. In fact, a deck can easily last twice as long when it's well taken care of.
Wooden decks will age much better if you keep it properly cleaned and sealed. And note that we said properly. If you mistreat the wood, you're not properly cleaning it. That means you can't apply rough or harsh techniques or chemicals on it that break down the structure of the surface. And the wood will need to be sealed regularly to keep moisture away.
Moisture is an enemy of your deck materials. It not only can destroy the wood all by itself, it also can assist organisms like algae to grow which also destroys the material.
Algae growth on decks, fences, roofs, and siding is a common problem, and wherever the right environment is present, you'll spend time trying to get rid of it because it will continue to grow and break down the building materials.
Pressure treated lumber is supposed to last about 50 years or longer. Depending on what type of wood your deck is made of, your roof could last anywhere from 30-50 years or so. That's a long time.
But how can a deck last when it's just left and neglected with no followup maintenance? Well, it just won't last that long. In fact, we've seen fences that were never treated correctly last only seven years in the right (bad) environmental conditions. So your wooden deck could be breaking down way sooner than it should.
When decks start to look grey, you can tell they haven't been cleaned and resealed properly. The wood needs to be treated this way every year in our area. Keeping substances like algae growth off the deck is an important part of exterior cleaning for our homes and properties.
Many people may think that a deck that looks grey and weathered needs to be sanded down, but this isn't always the case, in fact, it rarely is. Most decks can be brought back to life, restoring the original color of the wood with the proper pressure washing technique.
It's really unbelievable for most of our clients when they see what we can do with their grey, old looking decks! We can also reseal the deck so you know it's protected against moisture and decay for another year or two.
Some decks do need to be replaced, but it's more than likely that yours can be cleaned and look like new again. Give us a call and we can come take a look at your deck and give you an estimate for the cleaning and resealing.
If you are looking for Basking Ridge NJ Deck Cleaning please call 844-438-7638 or complete our online request form.
NJ SOFT WASH AND POWER WASH SPECIALISTS
Softwash Ranger is New Jersey's 5-Star Exterior Cleaning Professional with over a half decade of experience in soft washing, power washing, gutter cleaning, roof stain removal and so much more. With our New Jersey Soft Wash services, we keep your property clean and shining like new. We know that we are only as good as our last pressure washing or soft washing job, so every soft wash project, no matter the size, is treated with our top-level care. Our experienced employees will always advise you on what cleaning options best fit your needs.