When to Use Power Washing vs. Soft Washing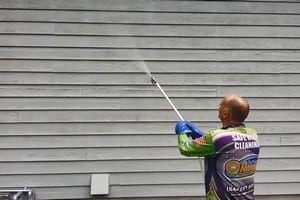 If the outside of your home is looking a little messy, it might be about time to get a power washing. Or should you opt for a soft washing instead?
The answer might not always seem obvious to you. And if you think you want to tackle the job yourself, it's imperative that you know when to use a power washing and when to use a soft washing so that you can enjoy the best and the safest clean.
Not sure when to use either kind of washing? Not a problem. Just read on, and we'll tell you some of the key differences between the two methods:
Power Washing: For Your Stubborn Stains
A power washing uses very high heat and pressure to deliver one of the most thorough cleanings for your exterior installations. This makes power washing ideal if you're looking to clean your rougher and dirtier surfaces:
Concrete
Decks
Grills
Brick
Soft Washing: For Your Delicate Installations
As its name indicates, a soft washing is a less intense washing method than a pressure washing is. So, a soft washing will prove to be better for your installations that might suffer from a higher-pressured cleaning:
Roof
Siding
Vehicles
Windows
If you are looking for Power Washing & Softwash Articles & Tips in North New Jersey, then please call 844-438-7638 or complete our online request form.
NJ SOFT WASH AND POWER WASH SPECIALISTS
Softwash Ranger is New Jersey's 5-Star Exterior Cleaning Professional with over a half decade of experience in soft washing, power washing, gutter cleaning, roof stain removal and so much more. With our New Jersey Soft Wash services, we keep your property clean and shining like new. We know that we are only as good as our last pressure washing or soft washing job, so every soft wash project, no matter the size, is treated with our top-level care. Our experienced employees will always advise you on what cleaning options best fit your needs.