Are You Searching for a West Caldwell Power Washing Company?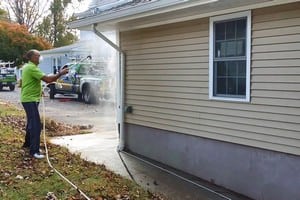 When it comes to searching for a West Caldwell power washing company anyone will tell you the Softwash Ranger name is the one to trust. Taking care of the exterior of your home is not as easy as a task as it may seem. And that's why it is a job that is best left to the pros. For over 20 years now we have been the pros to take care of these types of tasks. It simply isn't something that you should try to tackle yourself. With so much to take care of cleaning the interior of your home why not let someone else take the burden of cleaning the outside. We are a family owned and operated business and treat each client as though they were a friend of the family. Being part of a tight-knit community like this means taking care of your neighbors. With our business, that is the approach we like to take.
West Caldwell Softwash
If you have not yet heard the term West Caldwell softwash then you may not know the difference. The softwash is an approach best used on areas of the home where a power wash is too harsh. Although some companies will still use a power wash for any and all types of cleaning, we take a more responsible approach. Siding and other areas of the home can benefit from this method. We use eco-friendly cleansers and then rinse away buildup that could be harming your home. Let us show you the benefits of the softwash technique and what it could do for your home's exterior.
West Caldwell Power Washing
For some jobs though, only a West Caldwell power washing will do. This is not to be confused with the low level pressure washer you can rent for DIY projects. Our high power washers are only to be used by experts who have received proper training. For just the right surfaces this is the best approach to use. Our team of experts here at Softwash Ranger knows when it is best to use which technique. We will discuss the process with you so you are involved in the decision making for your home.
West Caldwell Roof Cleaning
Our other popular service is the West Caldwell roof cleaning. Instead of using harsh spray that can damage your roofing, we use cleaning agents and a gentle rinse. Whatever the job may be, our experts know how to get the job done. When it comes to cleaning your exterior, you now know the name to call. Let the number one choice for the West Caldwell power washing company take care of your home.
Recent Articles
[footbridge_recent_articles]
If you need the service of a West Caldwell power washing contractor, give us a call at 844-438-7638 or complete our online request form.