Power Washing And Softwashing In Teaneck, NJ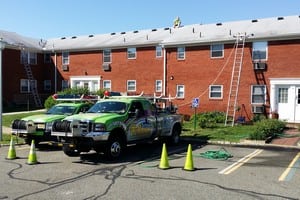 Looking for the best for a Teaneck power washing company? Then look no further than the Softwash Ranger name. While everyone remembers the importance of cleaning the interior of their home, they don't always realize the importance of caring for the exterior. Materials like siding especially can really benefit from a good cleaning. Things like dirt, mold, mud, hornet nests and other debris can make the outside of your home look unappealing. Even worse, it can begin to damage your home. Let the pros at Softwash Ranger help take care of this for you. There are plenty of reasons why we are the most qualified team for the job. Being family owned and operated means we care about each customer as if they were already a friend of the family. Not to mention our 25 plus years of experience helps us have the highest standards for our work. Plus you can feel good when you hire us because we use eco-friendly products.
Teaneck Softwash
You may still be new to the concept of the Teaneck softwash. As the name implies, this is a gentler approach to get the same results as a power wash. However, instead of the harsh stream of water doing all the work cleaning agents are used in conjunction with softer water. At the end of the process you get the same clean results – if not better. This type of technique is great for areas of the home that may end up damaged from power washing. Siding is an example of a place where dirt and mold can build but strong water streams can do damage.
Teaneck Power Washing
We here at Softwash Ranger are also number one when it comes to Teaneck power washing. Many homeowners make the mistake of thinking they can get the same results from the pressure washer they rent from their local home improvement store. No true. This type of wash is much stronger and should only be done by someone trained to work with this type of equipment.
Teaneck Roof Cleaning
Another popular service we get so many requests for here at Softwash Ranger is the Teaneck roof cleaning. Not only can your roof look filthy it can actually become damaged over time if not cleaned. Debris and mold buildup can collect and our team of experts can clean that up for you. Using a combination of cleansers we delicately clean off the roof. This helps prevent algae from eating away at your roof and causing damage. So now you know all the reasons you need the best Teaneck power washing and who to call. Now all you have to do is make the call.
Recent Articles
[footbridge_recent_articles]
If you are looking for a Softwashing and Power Washing contractor in Teaneck then please call 844-438-7638 or complete our online request form.