DO YOU NEED A HIGHLY QUALIFIED SOFT WASHING COMPANY IN LEONIA, NJ?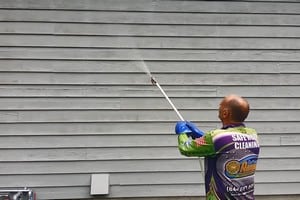 Does the outside of your home not look as nice as the rest of the homes in your neighborhood? Have you started noticing your roof is covered in black streaks? Or is the siding of our home stained with mold and mildew? There is only one solution. You need to hire a professional exterior cleaning company to clean the outside features of your home. Soft Rangers is a highly qualified soft washing company in Leonia, NJ that provides both soft washing and power washing services to commercial and residential clients. Improving the outward appearance of your home has never been easier. We have highly trained professionals use understand the importance of cleaning your home in a professional manner. We are a family-owned and operated exterior cleaning company that will work hard to restore the cleanliness of your property. With over 20 years of experience in the construction industry, exterior cleaning came naturally to us. It is our goal to be your one-stop exterior cleaning company that will take care of cleaning your building from top to bottom.
Leonia Softwash
Soft washing is a new innovated technique for cleaning the outside of your home. Softwash Ranger is the 1st North New Jersey Softwash system, certified professional. We customize this process to guarantee the successful cleaning of your siding, roof, stucco, solar panels and more. Power washing can be dangerous and harmful to certain areas around your home. As a professional soft washing company in Leonia, we can start your soft washing by applying an eco-friendly and chemically safe substance to the area. This chemical will eat away at all the dirt, mud and mildew that can harm the outward appearance of your house. After the chemical sits for a few minutes, we use a low-pressured rinse process that will clean your home without causing any structural damage. We can help your home experience a whole new level of clean.
Leonia Power Washing
When you have your home cleaned by a professional power washing company, there are several benefits. Having clean exterior features will not only make your home more attractive, but it will also improve the appearance of the entire neighborhood. Softwash Ranger has professional cleaners who are trained and certified to handle high powered washing equipment. Machinery that emits water at a high pressure is dangerous, and we train our cleaners to use the proper safety techniques to clean your hard exteriors. Areas around your home such as sidewalks, driveways, stone pathways and fences benefit greatly from a professional power washing service.
Leonia Roof Cleaning
The roof of your home has to work double time to keep your home protected from the outside world, but what protects your roof? The professionals at Softwash Rangers use their soft washing process to rid a roof of any mold, mildew or algae that will damage the structure of a roof. It is our goal to provide you with a high quality roof cleaning service for a variety of different roofing types. Our professionals have the ability to clean metal roofs, shingle roofs, clay tile roofs and more. Cleaning your roof will make your home look newer and more attractive.
Services We Provide In Leonia, NJ
Softwashing
Window Cleaning
Roof Cleaning
Power Washing
Sidewalk Cleaning
Siding Cleaning
Gutter Cleaning
Patios & Deck Cleaning
Stucco Cleaning
Dryvit and Eafis Cleaning
Fence Cleaning
Paver Cleaning
Ice Dam Removal
Solar Panel Cleaning
Snow Removal from Roofs
Rust Removal
Recent Articles [footbridge_recent_articles]
If you are looking for Soft Washing Company in Leonia, NJ then please call 844-438-7638 or complete our online request form.