Are You Searching for a Ridge Field Power Washing Company?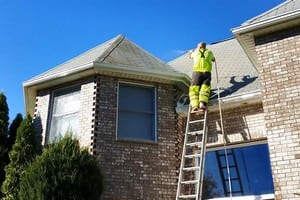 Looking for the services of the best Ridge Field power washing company in the area? Then look no further than Softwash Ranger. With well over two decades of experience in the business, this family owned and operated outfit knows a thing or two about customer satisfaction. In fact our main goals are to offer the highest level of quality workmanship and provide the best customer care possible. Following these guidelines has been what helped us become as popular as we are. It is an honor to serve the fine people of the Ridge Field community and help take care of all their exterior cleaning needs. Our team of experts knows which type of cleaning technique to use based on each individual situation. We will explain to you the process and explain the reasons for the plan of action we intend to implement. All of this at absolutely unbeatable pricing.
Ridge Field Softwash
Not everyone is familiar with the Ridge Field Softwash approach. This technique differs from a standard power wash. We use eco-friendly cleaning supplies to do the majority of the cleaning. Then we use a softer water flow to rinse the products and dirt away. This is the most appropriate approach for certain types of areas of the home or for exterior materials like siding.
Ridge Field Power Washing
Most people do know what we mean when we say Ridge Field power washing. The only problem is they often think this is the same technique as the type of washer you can rent yourself and do some cleanup. Our power washers are high velocity and meant only to be used by trained professionals. The great thing is this method gets serious results. The low stream pressure washer you can rent may be great for moving leaves and dirt from your driveway but isn't going to give you the type of clean you want for your home, driveway and other areas.
Ridge Field Roof Cleaning
Some people still want a power wash for their roof. This is not the best approach to maintain the longevity of your roof though. Any company that is still willing to do it you should be leery of. Our expert team at Softwash Ranger uses a combo of cleaning agents to get at the substances on your roof that can cause damage and then rinse away. By now you should be able to see we take this business seriously. Our mission is to meet the needs of each individual client and exceed their expectations. As your top choice for a Ridge Field power washing company, how can we help you today?
Recent Articles
[footbridge_recent_articles]
If you need the service of a Ridge Field power washing contractor, give us a call at 844-438-7638 or complete our online request form.