ARE YOU LOOKING FOR THE SERVICE OF AN ORADELL, NJ POWER WASHING CONTRACTOR?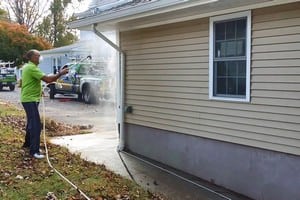 Scheduling a visit from a softwashing and power washing contractor is a great way to bring back the like-new appearance that your home has been missing. The exterior of your home is under constant assault from the elements, which results in buildup of dirt, grime, rust, mildew and algae. These stains collect over time and are difficult to remove without the right tools or experience, sometimes resulting in unnecessary and expensive exterior repairs. You may not have to replace your siding or roof to better its appearance, when you can have it looking great again for only a fraction of the cost when visited by our exterior cleaning experts. The cleaning services that we offer have the added benefit of being environmentally-friendly. We use a special blend of chemicals that will eradicate build-up and stains without harming the environment or the exterior of your home. Scheduling a visit from the softwashing and power washing contractors at Softwash Ranger will guarantee that you get the most competitive pricing and a quality of customer service that is completely unmatched by our competition. Our service is always the best, and our reputation speaks for itself. If you're ready to see the difference that a visit from a soft washing contract or can make, give Softwash Ranger a call today to schedule a visit.
Some of the other services that we offer include:
• Power Washing • Snow Removal • Roof Snow Removal • Ice Dam Removal • Tennis Court Cleaning • Rust Removal • Graffiti Removal
Oradell Softwashing
Are dark stains making your roof look old and worn? There is a much cheaper alternative to replacing the shingles of your roof, and that is scheduling an appointment from the cleaning professionals at Softwash Ranger. An experienced contractor will have the right tools and skills needed to completely eliminate stains on your roof that have build up from algae, mildew, and grime. With a single visit we can have your roof looking like brand new once again for only a fraction of the cost. A visit from a professional cleaning contractor is a great way to preserve the value of your home, and keep your roof and siding looking like they were freshly installed.
Oradell Power Washing
Softwash Ranger has the right skills and equipment to take care of any build-up that has occurred on your sidewalks or driveways. We can eliminate even the toughest stains, including oil, rust, and years of grime. Having your concrete surfaces handled by a professional power washer is important, as if you are not careful in the process, it can result in significant damage to your driveway that is not easily repaired.
Recent Articles
[footbridge_recent_articles]
If you are in need of the service of a professional power washing contractor in Oradell, just give us a call at 844-438-7638 or complete our online request form today!