ARE YOU LOOKING FOR THE SERVICE OF A NUTLEY, NJ POWER WASHING AND SOFTWASHING CONTRACTOR?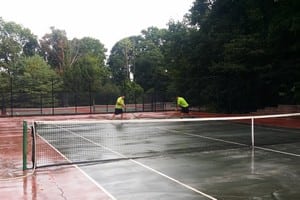 Has your home been recently visited by a low-pressure washing contractor? If not, then you need to pick up the phone and contact the Nutley experts at Softwash Ranger. Having your home serviced by a soft washing professional is a great investment with an enormous payback, as they can easily restore that like-new luster to your roof and siding, for only a fraction of the cost of home improvements. We will be able to eradicate any build-up of mildew, grime, rust, and mold that has built up over the years, and best of all our services are also environmentally friendly. We use a special blend of chemicals that can easily rinse away organic materials on your home, while remaining safe to both the environment and your home's exterior. Allowing grime to gather on the exterior of your home will eventually result in your property losing value, but a visit from a professional cleaning contractor might see that value rise. Having your home visited by a power washing expert means that you can have that brand new look back once again in no time, boosting your home's curb appeal and resale value. If the exterior of your Nutley home is in need of a good cleaning, get the assistance of the softwashing and power washing experts at Softwash Ranger.
Some of the other services that we offer include:
• Power Washing • Snow Removal • Roof Snow Removal • Ice Dam Removal • Tennis Court Cleaning • Rust Removal • Graffiti Removal
Nutley Softwash
If the exterior of your Nutley home is filthy, there's no reason that you have to put-up with that ugly grime and algae that has begun to grow on it. The easy solution is a call to the professional cleaners at Softwash Ranger. We can provide you with an experienced team of power washing and softwashing contractors that will be able to identify and clean any troubled spots on your home, restoring its luster in a single visit. We have the right training, tools, and techniques to get the job done right, safely removing grime that cannot be eliminated with a normal power washer. Don't take the risk of handling this cleaning on your own, get the assistance of a professional. There's no reason that you need to endure a dirty home when Softwash Ranger is only a phone call away.
Nutley Power Washing
When your Nutley driveway or sidewalks are suffering from ugly rust and oil stains you might think those blemishes are there to stay, but they can be removed with the proper treatment provided by a power washing contractor. With the right equipment, a power washing contractor will know how to eliminate these stains without the risk of damage to your concrete pouring. We can have that brand new freshly poured look restored, making your driveway a lustrous white once more with one quick, easy, and affordable visit. Contact the power washing professionals at Softwash Ranger today and ask us about a free driveway or sidewalk cleaning estimate.
Recent Articles
[footbridge_recent_articles]
If you are in need of the help of a professional exterior cleaning specialist in Nutley, give us a call today at 844-438-7638 or complete our online request form.