Morris County Power Washing & Roof Cleaning Services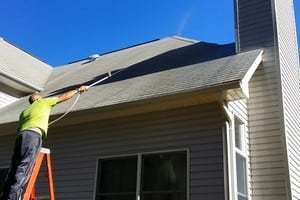 One of the most common complaints we hear is about black roof stains and concrete stains. The black roof stains are likely from algae which will grow and multiply on the shingles.
Concrete stains could be from anything. Oil or chemical spills, dirt and grime, and red rust stains from iron in the soil and rainwater are all very common. These stains are difficult to remove without damaging the concrete or roof shingles. Even wood is vulnerable to harsh chemicals like bleach or scouring with a scrub brush.
To safely clean these exterior surfaces, call Softwash Ranger for professional Morris County power washing service. We are the East Hanover Power Washing pros to call for all your Morris County exterior cleaning needs.
Deck Cleaning
Fence Cleaning
Roof Cleaning
Driveway Cleaning
Sidewalk Cleaning
Paver & Brick Softwashing
Patio Cleaning
Siding Cleaning
and more
Need Roof Cleaning In Morris County?
The best way to clean your roof in Morris County is with our soft washing technique. This safe and effective roof cleaning method has to be done by trained professionals who have access to commercial-grade cleaning solutions and power washing equipment. We use special techniques to remove roof stains and brighten the dull, faded color on the shingles. The roof looks brand-new when we are done.
Be sure you choose a company like us or your roof shingles could be damaged. Some manufacturers will void the warranty if the shingles are damaged by cleaning. Also, some insurance companies void the policy if the roof cleaning is not kept up. They know how destructive black algae stains are to a roof.
Paver And Brick Cleaning In Morris County
Pavers and bricks are just as vulnerable to harsh cleaning methods as are roof shingles and wood. You may think that these hard materials are impervious to damage, but truly they are not. The material of concrete and brick is very porous. It is easy for chemicals or high-pressure water jet streams to create pits in the material. Once pits form, the material starts to crumble and break down further.
If you require patio or brick siding cleaning, let our pros handle the work for you. Your exterior will be properly and safely cleaned and the investment you made in the materials will remain safe.
If you are looking for a North New Jersey Power washing company, please call 844-438-7638 or complete our online request form.