LOOKING FOR THE SERVICE OF A MAPLEWOOD POWERWASHING AND SOFTWASHING CONTRACTOR?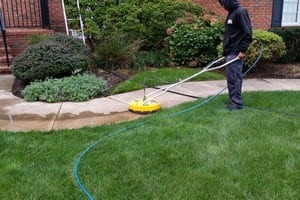 If you are in need of the services of a softwashing and power washing professional to help bring back that like new look to your Maplewood home, then you need to contact the power washing and softwashing contractors at Softwash Ranger today. A visit from our softwashing and power washing contractors will eliminate dirt and grime from your home's exterior and help give your curb appeal a shot in the arm. We are dedicated to providing the Maplewood area with top-quality customer service and take our reputation seriously, treating each individual job as the most important one yet. Maintaining a great looking home exterior is important when it comes to preserving the value of your property, and a great way to do that is with regular visits from the power washing and softwashing contractors at Softwash Ranger.
Maplewood Softwash
If your home exterior is dirty then that is the perfect reason to give Sfotwash Ranger a call. We use tried and proven methods with specialized softwashing chemicals to remove harmful organisms like algae or mildew that have begun to grow on the outside of your home. You do not want to leave these kinds of organisms untreated as they can cause your home to degrade faster, causing lasting damage, as well as hurting your property value. We can rinse away this grime using special eco-friendly chemicals that break down this organic matter without any threat to the environment or the outside of your home. With a single visit from one of our softwashing professionals we will eradicate this build-up using special equipment, eliminating this grime to have your home looking like new again.
Maplewood Power Washing
If you have rust, mildew, and oil building up on your driveway or walkway, there's no reason that you should tolerate this kind of build-up when it can be removed with a visit from a professional power washing contractor. Our power washing professionals have the right equipment and know-how to remove any stains from your concrete without risk of damage to the surface. We use special environmentally friendly chemicals to rinse away these stains, while not posing any risk to the ecosystem. If you want that freshly poured look again, give us a call today and see what we can do for you.
Recent Articles
[footbridge_recent_articles]
If you need the service of a Maplewood power washing contractor, give us a call at 844-438-7638 or complete our online request form.