Hudson County Power Washing & Roof Cleaning Services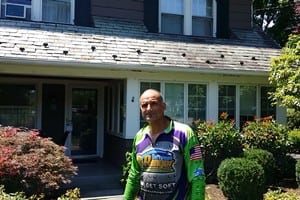 At Softwash Ranger, we have become known in the Hudson County area for offering the best work when it comes to power washing. This is because we focus our sights on offering the finest quality workmanship and customer service to customers.
We know what it takes to get the job done safely, promptly and professionally. Our main concern is helping you to create a safe, clean, and healthy environment for you and your family or your employees and customers.
The longer you put off taking care of the exterior cleaning, the worse the problem will become. And while we can handle any level of dirt and grime, we know the consequences of waiting can be detrimental to the building materials. You can stop allowing pollutants to make your house look unappealing. You can also stop the damage created by substances like algae that eat away at your roof shingles and siding materials.
Contact us today to find out more about our professional Hudson County power washing service. We are an East Hanover Power Washing company who serves your community. We will be glad to give you a free quote.
Hudson County Roof Cleaning Service
Algae can wreak havoc on your siding or roof surfaces. It uses the material for food. It's vital to remove all the algae or moss growing on your siding or roof top.
Of course, it is also important to make sure you don't damage the materials when cleaning the roof or other exterior surfaces. Soft washing cleans these areas without breaking down the material. It is an approved and recommended method of cleaning which won't void warranties or your homeowner's insurance policy.
Algae Stain Roof Cleaning
Roof Snow Removal
Ice Dam Removal
Safe, Soft Wash Roof Cleaning
Commercial Power Washing Services in Hudson County
In order for your business to be inviting to potential clients and customers, it is vitally important for your commercial property to look its best. Our power washing contractors can help you in this regard. We can expertly clean your parking lot, driveways, walkways, siding, roofing, and more.
After our Hudson County commercial power washing services, your commercial property will look professional and inviting. You will always be able to trust us with all your future property cleaning needs when you hire our pros.
If you are looking for a North New Jersey Power washing company, please call 844-438-7638 or complete our online request form.