Bergen County Power Washing & Roof Cleaning Services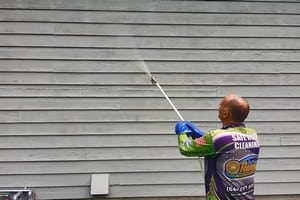 If you really want to make a difference in how the exterior of your Bergen County property looks, it's time to consider service from Softwash Ranger. There are other benefits as well that power washing provides in addition to improving your curb appeal. When the job is done correctly with safe and effective methods like we use, your home's siding, roof, and other exterior surfaces will last longer.
When algae and grime eat away at these surfaces, the roof shingles and siding materials don't last as long as they should. With at least seasonal service, four times a year, power washing removes the damaging effects that dirt and algae cause.
You can trust Softwash Ranger to provide you with safe and effective Bergen County power washing service. Our East Hanover power washing company is dedicated to high-quality service. We take great pride in our work and quality customer service.
It can be quite a challenge to keep the surfaces outside your home or business looking their best. Time, weather, and other factors play a role in making them dirty and grimy. You may not even notice the true extent of the buildup because it happens so gradually. But once your surfaces are clean again, you'll notice what an amazing difference there is.
The Power Washing Difference
So what exactly is it about power washing service in Bergen County that makes such a huge difference? One of the reasons to hire us for professional service is how fast and effective it is to improve the look of your property. It is the least invasive and time consuming ways to get certain materials clean. If you took the time to do the job yourself with a rental machine, the results won't last as long because the equipment doesn't get the results that professional equipment can. And you certainly don't want to scrub everything down by hand.
There is also a significant difference in the quality of clean you get from professional power washing as well. Our methods do more than moving dirt around and just getting the surface dirt removed. With DIY methods, you don't get the type of clean you need. What your friends and neighbors don't tell you is they have to power wash all the time. With our service, the results last because it gets deep down clean.
Soft Washing Your Roof In Bergen County
Our soft wash technique kills algae on your roof and siding or fences, deck, and other areas. We use steam and environmentally safe chemicals with varying techniques depending on the type of surface we are cleaning. This eliminates dark stains on your roof and the green algae stains all over your siding, fences, or deck. Call us for an estimate today and we'll go over the details with you.
If you are looking for a North New Jersey Power washing company, please call 844-438-7638 or complete our online request form.