4 Benefits Have Your Concrete Professionally Washed
Like everything else in your North New Jersey home, pressure routine pressure washing for your sidewalk, driveway, walkways, or patio is important to keep it healthy and vibrant throughout the year. There are numerous benefits to washing your your stone features all around your home.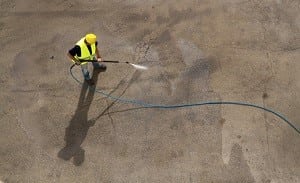 Benefits of having your concrete Professionally Washed
Curb Appeal – Pressure washing the concrete around your home is a great to improve your homes' curb appeal. There's nothing like having a guest drive up to your home and instantly notice how beautiful your walkways are. The same is true with your driveway and patio. People enjoy spending more time around the patio when it is clean and free from stains and debris.
Added Value – If you are looking to sell your home down the road then having clean, and well-maintained driveways and walkways is a great selling point and tell prospective homeowners that the home has been taken care of. Every feature of your lawn and yard that is cared for means that they don't have to spend extra money upfront doing home improvements. This is a great selling feature.
Durability – If you want longer lasting concrete bases around the house, then cleaning them will give them a longer lasting finish. Concrete becomes filled with dirt, mold, algae; plant stains, tire marks, oil and liquids, and irrigation rust. All these build up over time and eat away at your concrete finish while slowly wearing it down. A washing on a regular basis can preventative buildup and keep your concrete looking fresh and vibrant all year long, while preserving it at the same time.
Savings – When you compare DIY washing with a washing performed by professionals you'll instantly notice that you can save just as much money and time by having a professional company come and do the job. You'll also notice better results with a professional. Experienced technicians can both identify what stains are on your concrete and what cleaning solutions need to be used in order to remove them. They also have state of the art equipment that will wash your concrete without damaging its finish.
Taking care of the concrete around your home is just as important as taking care of all other items. Concrete driveways, sidewalks, patios, and walkways that are neglected will inevitably wear down a lot faster and end up costing more money in repairs. This is why hiring a professional to come and wash your concrete is important. They can identify potential problems before they happen and save you considerable time and money in repairs.
If you are looking for professional Concrete Washing in North New Jersey then please call 844-438-7638 or complete our online request form.
NJ SOFT WASH AND POWER WASH SPECIALISTS
Softwash Ranger is New Jersey's 5-Star Exterior Cleaning Professional with over a half decade of experience in soft washing, power washing, gutter cleaning, roof stain removal and so much more. With our New Jersey Soft Wash services, we keep your property clean and shining like new. We know that we are only as good as our last pressure washing or soft washing job, so every soft wash project, no matter the size, is treated with our top-level care. Our experienced employees will always advise you on what cleaning options best fit your needs.