ARE YOU IN NEED OF A MAHWAH POWER WASHING CONTRACTOR?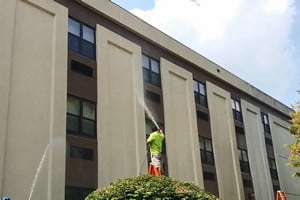 Having a regular visit from a softwashing and power washing professional can help bring back the like new appearance of your home by eliminating ugly stains and grime that have built up over the years. A visit from a softwashing and power washing contractor will not only have your home looking great again, but bolster your curb appeal in the process, helping increase or preserve the value of your Mahwah home as well. When you schedule a visit from our power washing and softwashing contractors you will get competitive pricing and quality customer service that cannot be beat by our competitors. We have the experience and drive to provide top-notch service that separates us from the rest. There's also the added benefit of all of our services being environmentally friendly, as we use special softwashing and power washing equipment and techniques that will do away with pesky organisms without harming the environment. If you want to give your Mahwah home a fresh new look, schedule a visit from our experienced softwashing and power washing contractors today.
Mahwah Softwashing
Grime, dirt, algae, and mold build up on your home's exterior, but they are no match to the power washing and softwashing techniques used by our experienced professional staff. Our methods will eradicate dirt and growth on the exterior of your home, restoring that like new luster in no time at all. We can help remove mildew and mold that can cause permanent damage to your paint and even depreciate the value of your home. You want to protect your home investment and a great way to do that is with a visit by Sotfwash Ranger today!
Mahwah Power Washing
At Softwash Ranger we have the right equipment and know-how to take care of all of the unsightly stains, grease, and oil that has built up on your driveway or sidewalk. With proper power washing equipment we can eradicate this buildup without any risk to the outside of your home. We'll have your concrete surfaces looking great again, as if they were freshly poured. When you're looking to sell your home, make certain you get a full pressure washing conducted to improve your curb appeal and attract the interest of potential buyers. If you are in need of the services of a power washing professional, you should contact our experienced staff.
Recent Articles
Roof Snow Removal Keeps Santa Safe On Jersey Roof Tops!

The last thing you want to have to tell your kids this year is that Santa couldn't make it to your house because of too much snow on your roof tops! We all know how important it is for the young children in our families to get presents from Santa Claus every year. Goodness knows...

Read More
Ice Dam Removal in Mendham

Don't wind up hanging off the edge of the roof by your belly, with feet swinging around trying to find the ladder! Let our professionals come and clear off your ice dam for you. Simply melting away the water of your ice dam isn't really as simple as it seems. Water can flow off and...

Read More
If you need the service of a Mahwah power washing contractor, give us a call at 844-438-7638 or complete our online request form.