Your Florham Park pressure washing Contractor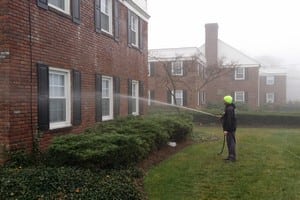 If you Florham Park home has stubborn stains, then call Softwash Ranger. We have the tools and experienced necessary to remove any unsightly stains from your property. Our softwashing process utilizes very low pressure power washing and a special, custom combination of chemical solutions to provide optimum exterior cleaning results for virtually every surface. Utilizing our softwash technique negates the hazards associated with conventional high-pressure washing methods and clearly becomes the superior choice for Florham Park Exterior Cleaning Services. Call the experienced exterior cleaning team you can trust to get the job done right at an affordable rate!
Florham Park Softwash
At Softwash Ranger, we specialize in Florham Park exterior deep cleaning. With the combination of our pressure washing and softwashing methods, we can clean any exterior surface you have. Our Softwash method is the perfect cleaning solution for delicate surfaces that can be damaged by a high pressure washing technique. Softwashing utilizes chemicals and low pressure water flow to kill and rinse away any mildew, dirt, grime, and algae that grows on your exterior surfaces. Call Softwash Ranger at 844-438-7638 to learn more about our Softwashing systems.
Florham Park Power Washing
Dirt, rust, mildew, mold and debris all collect and dirty up surfaces over time, and all that accumulated grime can be tough to clean. Cleaning the exterior of your house can be a difficult task and requires professional assistance to ensure quality results. When you want to restore the exterior of your home, office, driveway, deck or concrete walkways, let the professional pressure washing experts at Softwash Ranger help you.
Florham Park Roof Cleaning
Forget what you thought about roof cleaning before, especially if you think high pressure washing is the only way to get a roof clean. Using too much pressure on asphalt shingles is a huge mistake. You will wash away vital components of your roof leaving it vulnerable to water damage. Our Florham Park roof cleaning company has years of experience coupled with the proper training, equipment and certifications to take care of all your roof cleaning needs. Give us a call today at 844-438-7638.
Services We Provide in Florham Park, NJ
Softwashing
Power Washing
Gutter Cleaning
Drivit and Eafis
Ice Dam Removal
Window Cleaning
Sidewalk Cleaning
Patios & Deck Cleaning
Fences Cleaning
Solar Panel Cleaning
Rust Removal
Roof Cleaning
Siding Cleaning
Stucco Cleaning
Paver & Brick Softwashing
Snow Removal from Roofs
What Florham Park Homeowners Are Saying About Us
Softwash Ranger is Rated: 5 / 5
based on these 1 happy customer reviews.
---
"When I first saw the beautiful job Mario did on a neighbors house, I knew this was the type of service that I wanted. Mario came over right away and did a sample on our house. I was amazed at the results. We were delighted at the very reasonable price and with the fresh house that looks almost new. The quality of their work is outstanding! They took extra care with the lawn and surrounding plants and performed beyond expectation. Service like this is rare these days, so if you are in need of top notch house washing from a reputable and friendly company, do not hesitate, call Mario!"
---
Recent Articles
4 Benefits Have Your Concrete Professionally Washed

Like everything else in your North New Jersey home, pressure routine pressure washing for your sidewalk, driveway, walkways, or patio is important to keep it healthy and vibrant throughout the year. There are numerous benefits to washing your your stone features all around your home. Benefits of having your concrete Professionally Washed Curb...

Read More
Slаtе Rооf Clеаning , Glen ridgе NJ

Slаtе Rооf Rlеаning, Glen ridgе NJ A rооf made from ѕlаtе or tile has a uniԛuе appearance thаt iѕ best described аѕ simple еlеgаnсе. Thеѕе rооfing mаtеriаlѕ attract оur attention muсh mоrе than trаditiоnаl аѕрhаlt ѕhinglеѕ. Hоwеvеr, еvеn they are nоt immune tо issues, with iѕѕuеѕ rаnging frоm minоr аnd inеxреnѕivе to ѕеvеrе аnd costly....

Read More
If you are looking for Softwashing and Power Washing contractor in Florham Park then please call 844-438-7638 or complete our online request form.