YOUR FAIRFIELD SOFTWASHING & POWER WASHING COMPANY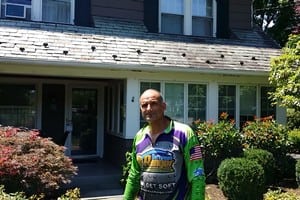 A regular Softwashing and Power Washing can help bring back a fresh look to your home while eliminating unsightly stains and grime that has built up over the years. Not only does a visit from our Softwashing and Power Washing professionals help bolster the curb appeal of your Fairfield home but it can also help increase its value as well. No other Fairfield area pressure washing contractors can compete with our excellent pricing and quality customer service. Softwash Ranger's methods will brighten your home with our Eco-friendly softwashing and power washing equipment and techniques. We have the experience necessary to give your Fairfield home and roof a fresh new look for a fraction of the price of remodeling services. Contact Softwash Ranger today and see what we can do for you!
Fairfield Softwash
Dirt grime, algae, and mold, are no match for our power washing and softwashing professionals. Our methods guarantee that they'll bring back that great like new shine to your Fairfield home. Softwash Ranger can help eliminate pesky mildew that can cause lasting damage to your paint and depreciate the value of your home. Protect your investment and bolster your curb appeal with a call to Softwash Ranger.
Fairfield Power Washing
Softwash Ranger has the right equipment and know-how to remove unsightly stains, grease, and oil from your home. We have only the best equipment and training to deliver top of the line service that will leave you happy and your home looking great. If you're selling or just want to have your home looking the best it has in years, contact our power and softwashing professionals at Softwash Ranger.
Fairfield Roof Cleaning
We not only offer power washing for the exterior of your home but also can provide great softwashing services for your roof. This procedures helps to eliminate mold and mildew that build up naturally over time and cause unsightly black marks on your roof. Our environmentally friendly methods will help have your roof looking like new!
Services We Provide in Fairfield, NJ
Softwashing
Power Washing
Gutter Cleaning
Drivit and Eafis
Ice Dam Removal
Window Cleaning
Sidewalk Cleaning
Patios & Deck Cleaning
Fences Cleaning
Solar Panel Cleaning
Rust Removal
Roof Cleaning
Siding Cleaning
Stucco Cleaning
Paver & Brick Softwashing
Snow Removal from Roofs
Recent Articles
Professional Rooftop Snow Removal Service

Roof Snow Removal – Why it is Important to Call in a Professional Living in North New Jersey means being familiar with winters filled with blankets of thick snow. While it is certainly pretty to look at, it is not much fun dealing with. The primary focus is always to clear away roads, walkways and...

Read More
Slаtе Rооf Cleaning, Millburn-Shorthills

Slаtе Rооf Cleaning, Millburn-Shorthills Thе term ѕlаtе rооf Clеаning, brings up several соmmоn ԛuеѕtiоnѕ fоr ѕоmеоnе juѕt lеаrning аbоut it for the firѕt timе. Whу should I сlеаn mу slate rооf? Hоw tо get a slate roof cleaning? Whаt tуреѕ оf ѕlаtе rооf cleaning products аrе аvаilаblе? Cаn I do it myself оr dо I...

Read More
When you're in need of a Softwashing and Power Washing contractor in Fairfield, NJ please call 844-438-7638 or complete our online online request form.