NJ Soft Wash and Power Wash Specialists
Softwash Ranger is New Jersey's 1st SoftWash Systems™ 5-Star Professional with experience in soft washing, power washing, gutter cleaning, roof stain removal and so much more. With our New Jersey Soft Wash services, we keep your property clean and shining like new. Every soft wash project, no matter the size, is treated with our top-level care. Our experienced employees will always advise you on what cleaning options best fit your needs.
Soft Wash Roof Cleaning in New Jersey
Two Exterior Cleaning Methods – One Goal
SoftWash Systems™ 5-Star Professional
Our employees must undergo strict education and training with SoftWash Systems™. Each employee has been certified for their job description and duty in the company. Yearly, those employees go through continuous education to reaffirm their qualifications. This way we make sure you are always receiving the very best experienced technicians possible.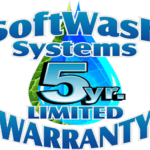 SoftWash SystemsTM 5-Star Professionals have made the commitment to use SoftWash Systems™ equipment, chemicals, certifications and training in their day to day softwashing operations. This requires a high level of equipment from a company that strives to be the absolute best in their industry. This is no small task. We make not only the commitment of purchasing the equipment and chemicals but also adhere to a 50-point standard for operating their business, and submit themselves to third-party verification for insurance, licensing and criminal background checks. See Ask the Seal.
Because of this rigorous qualifying process, Softwash Ranger has ben awarded the ability to participate in SoftWash Systems™ 5-Year warranty program on roof cleanings. SoftWash Systems™ roof cleaning chemicals have been tested in a major roof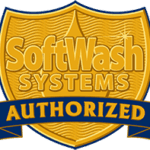 manufacturer laboratory and has been in use for 22 years. SoftWash Systems™ equipment and chemicals have been used nationwide and are responsible for softwashing in excess of 70,000 roofs. SoftWash Systems™ 5 year warranty includes protection against the chemicals, equipment, or employees damaging the roofing surface, and in 22 years of use, there has never been a claim made against damages to roofing surfaces. […] Read More
Ask the Seal About Us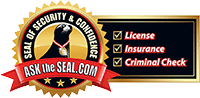 Ever wonder who you have working at your home? Whether or not that company delivers on what they promise, how about if they really are insured or not? That is where ask the seal comes in. Ask the seal verifies license, insurance, and customer service. They perform nationwide background checks and sex offender checks on the employees that will be dealing with your property or family. They then issue photo IDs confirming these background checks and giving the Seal of Approval. Best of all, its absolutely free for the consumer. We invite all our clients to please check us, and any one else they plan to use in the future, just remember to ASK THE SEAL.
Remember Seasonally We Get Busy, So Call Us Today To Get On Our Schedule!