Graffiti and Tag Removal By Softwash Ranger In New Jersey
Taggin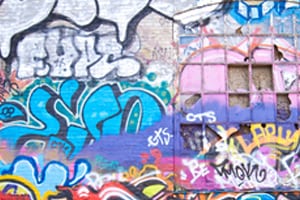 g is used in graffiti as a single symbol or group of repeated symbols that are used to represent territory or as a signature of one's name. Tagging destroys, scars, and takes away from the beauty of a populated area.
Graffiti is more commonly known as artwork which is marked, sprayed or painted onto hard surfaces. Sometimes it is created to show off the art or make a statement of some kind, and can be used to object or protest a certain thing.
There is an entire graffiti subculture involved that is not widely realized by the average citizen. An entire dictionary worth of terminology is used by those who participate in the graffiti world.
It is sometimes called an art crime. While artistic talent can and does exist in some graffiti, a lot of people don't see it as art especially when it was placed on their property without permission.
Softwash Ranger, Your Graffiti and Tag Removal Specialists
If your property has been violated with tagging or graffiti, our New Jersey graffiti and tag removal professional team can easily remove it for you.
We are a family owned and operated business that has been servicing New Jersey and surrounding areas for more than twenty years. At Softwash Ranger, our professionals are experienced with graffiti removal.
The removal of paint or markers from hard surfaces is not an easy task to accomplish, especially because it is so important not to damage the surface underneath. The last thing you want is to scrub or scratch off the graffiti and damage the brick, rock, wood, or other surfaces of your property.
Our professionals have developed a deep understanding of methods and materials that we typically clean, which allows us to safely and effectively remove unwanted materials from your property.
Here is a list of additional services we provide in the New Jersey area:
Softwashing
Power Washing
Gutter Cleaning
Dryvit and EIFS
Ice Dam Removal
Window Cleaning
Sidewalk Cleaning
Patios & Deck Cleaning
Fences Cleaning
Solar Panel Cleaning
Rust Removal
Roof Cleaning
Siding Cleaning
Stucco Cleaning
Paver & Brick Softwashing
Snow Removal from Roofs
We are North New Jersey's 1st SoftWash Systems™ master business certified professionals. Take a look at our long list of customer testimonials and you will see why we are so highly regarded. Our attention to detail surpasses our competition and our high standards are evident.
We know that in order to maintain a good reputation, we must live up to our word and provide each customer with the satisfaction of quality workmanship that they deserve on every project.
Because we are well established and have worked hard to build and keep a good reputation in our community, we are able to offer you the best prices for the highest quality.
If you are looking for graffiti removal in New Jersey, call Soft Wash Ranger at 844-438-7638 or fill out our online request form.
NJ SOFT WASH AND POWER WASH SPECIALISTS
Softwash Ranger is New Jersey's 5-Star Exterior Cleaning Professional with over a half decade of experience in soft washing, power washing, gutter cleaning, roof stain removal and so much more. With our New Jersey Soft Wash services, we keep your property clean and shining like new. We know that we are only as good as our last pressure washing or soft washing job, so every soft wash project, no matter the size, is treated with our top-level care. Our experienced employees will always advise you on what cleaning options best fit your needs.