Act Quickly – Why Graffiti Removal Is So Important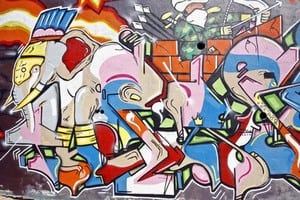 It can create a sickening feeling in the pit of your stomach, that moment when you arrive to open your business for the day and discover it has been tagged. While contracting a professional artist to create a graffiti mural can enhance the visual aesthetics, uninvited graffiti has quite the opposite effect. Graffiti is vandalism and illegal, and is often signs of gang activity, nothing you want your business affiliated with.
When it Comes to Graffiti Removal The Sooner the Better
If the exterior of your North New Jersey commercial space has been tagged with graffiti, here is why you need to call in a professional for removal, and right away:
Of course, above all else, it is because you care about the appearance of your business, and the surrounding community. Keeping the exterior of buildings looking clean helps make the whole area look better. Ignore it and everything begins to look run down. One building can take down a whole city block.
Fail to act quickly, and more graffiti is sure to come. It's rare that a building gets tagged and then left alone. It attracts other vandals or becomes space for gang politics to carry out, and rivalry gangs feel the need to respond. Clean it up and reduce the likelihood of more acts of visual vandalism appearing.
Send a clear message to these hoodlums that you won't tolerate this type of behavior. Usually, once you have made it clear that you will not leave up their graffiti, they move on to another target.
This will restore your walls back to the original look and color. Many business owners are nervous about removal because they fear that the removal process will compromise the surface of the wall. That simply is not true at all, as long as you work with a reputable local expert.
Locate That Reputable Local Expert
Softwash Ranger, your power washing service company, is a family owned and operated business, and we genuinely care about our clients. We want to be able to help you rid your exterior of such a heinous act of vandalism, and let you focus on running your commercial venture. When you find yourself in need of graffiti removal don't panic, just give us a call.
If you are looking for a North New Jersey Graffiti Removal Specialist then please call 844-438-7638 or complete our online request form.
NJ SOFT WASH AND POWER WASH SPECIALISTS
Softwash Ranger is New Jersey's 5-Star Exterior Cleaning Professional with over a half decade of experience in soft washing, power washing, gutter cleaning, roof stain removal and so much more. With our New Jersey Soft Wash services, we keep your property clean and shining like new. We know that we are only as good as our last pressure washing or soft washing job, so every soft wash project, no matter the size, is treated with our top-level care. Our experienced employees will always advise you on what cleaning options best fit your needs.