North New Jersey Wood Deck and Fence Cleaning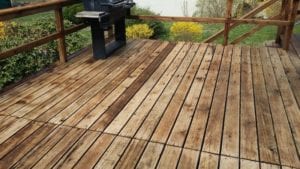 Wooden features are a great contribution to the exterior appearance of your home. Wood is a solid structure that has been used for construction as long as the Earth has been around. Nowadays, we use treated wood to make our structures last longer and look prettier. However, wood that is exposed to the outdoor elements constantly will become damaged, molded, dirty and mildewed. This can cause your wood to rot faster and look terrible.
Softwash Ranger is an experienced exterior cleaning company that provides soft washing for North New Jersey wood deck and fence cleaning services. We have experienced exterior cleaning specialist who know how to clean exterior features without causing damages to your home.
Soft washing is an innovative exterior cleaning process that involves using chemicals instead of pressurized water to clean your exterior features. These chemicals are eco-friendly and environmentally safe. They are rinsed off using a low pressure system that will not damage the structure of your wooden features.
North New Jersey Wood Deck Cleaning
A deck is a great feature to have for you outside of your home. A wooden deck not only looks great, but it also makes it easy to enjoy the outdoor area around your house. It is important to clean your wooden decks regularly with a professional soft wash service.
Softwash Ranger provides North New Jersey wood deck cleaning services that you can depend on for quality results.
When summertime rolls around, you want to enjoy a nice clean deck. When you have mold, mildew or dirt on your deck it can be unsightly and embarrassing. At Softwash Rangers, we have professional cleaners who have the ability to clean your wood deck without harming the structure. You can depend on us for speedy, fast service.
North New Jersey Fence Cleaning
Cleaning a fence may not seem like an important job, but a freshly clean fence can dramatically improve the curb appeal of your house.
Softwash Ranger is a professional North New Jersey fence cleaning company that provides soft washing services to clean the fence around your home. Our professionals are trained and certified to handle the safe cleaning of your exterior features including wooden fences.
Cleaning your wooden fence regularly can help it last longer too. Wood is a solid structure, but it will slowly begin to decay if you don't properly maintain it. Softwash Ranger can help you keep the exterior of your home bright, shiny and clean.
When you notice your home in need of a good cleaning, call our exterior cleaning specialist for an affordable soft washing solution.
Our North New Jersey Wood Deck and Fence Cleaning Services Include:
| | | |
| --- | --- | --- |
| Wood Deck Cleaning | Wood Fence Cleaning | Deck Cleaning |
| Wood Cleaning | Fence Cleaning | Deck Soft Washing |
| Soft washing | Fence Soft Washing | Aluminum Siding Cleaning |
| Residential Soft Washing | Home Soft washing | New Jersey Soft Washing |
Recent Articles
Ice Dam And Roof Snow Removal, Softwash Ranger North New Jersey Expert

Homeowners of North New Jersey, are you protecting your home in winter through expert roof snow removal and prevention of ice dams and ice build up on your roof? Roof collapses caused by snow build up during recent winters have played havoc with building and home owners, as roofs buckle and give way during periods...

Read More
4 Benefits Have Your Concrete Professionally Washed

Like everything else in your North New Jersey home, pressure routine pressure washing for your sidewalk, driveway, walkways, or patio is important to keep it healthy and vibrant throughout the year. There are numerous benefits to washing your your stone features all around your home. Benefits of having your concrete Professionally Washed Curb...

Read More
If you are looking for a North New Jersey Wood Deck and Fence Cleaning Service then please call 844-438-7638 or complete our online request form.