Power Washing And Softwashing In Upper Montclair, NJ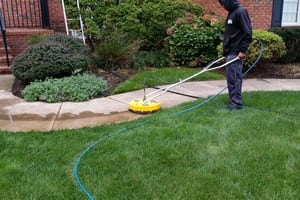 Upper Montclair and surrounding areas are often hit by strong northeastern weather patterns in the winter time. The snow can bring with it plenty of wet rain, which increases the ice formation on roads and structures within the area. Residential homes tend to build ice and snow ridges on roof tops. When this happens, it can be dangerous. If the ice and snow fall from the rooftop, it can injure anyone standing below. The problem is that this can happen at any moment when the weight of the snow and ice becomes too much to balance at the roof edges. The other danger of ice dam and snow buildup is the damage it can cause to the roof. Just the weight alone can cause the roof to collapse. Not to mention the degrading it causes on the roof materials. In our area, roofs are built with a steep enough pitch to cause snow to roll off the roofs in wintertime. But when ice also forms on the roof, it blocks any snow and keeps it from traveling down the roof as it should. Eventually, there is so much buildup that the whole thing can collapse.
Soft Wash or Power Wash in Upper Montclair, NJ, Which Do You Need?
At Softwash Rangers, we have various techniques to remove ice and snow from rooftops. Depending upon the type of surface we are working with, we will recommend your best option to you. Either way, we provide you with complete removal of any snow or ice buildup. Decks and other wood surfaces of the home are also easily cleaned with power washing techniques. Roofs and Siding are cleaned as well. If you want to revitalize a surface on the exterior of your home or business, power washing is the key. When you need a reliable, trustworthy, expert service company, call on Softwash Ranger. We try our hardest to please our customers. We set standards for our team that will ensure your satisfaction including being on time for the project, providing excellent communication and services, and finishing on time and within budget. If you have a dirty exterior, call us at the number below and we will be happy to provide you with a free quote.
Recent Articles
Ice Dam Removal in Mendham

Don't wind up hanging off the edge of the roof by your belly, with feet swinging around trying to find the ladder! Let our professionals come and clear off your ice dam for you. Simply melting away the water of your ice dam isn't really as simple as it seems. Water can flow off and...

Read More
Removing Ice Dams in Parsippany

Softwash Ranger is a family owned and operated exterior cleaning service. We have served New Jersey communities for over twenty years and have developed a a solid reputation as a company who cares about our customers and the quality of workmanship we provide. We use methods and materials that are specific to the surface material...

Read More
If you are looking for a Softwashing and Power Washing contractor in Upper Montclair then please call 844-438-7638 or complete our online request form.