Solar Panel Cleaning Experts in North New Jersey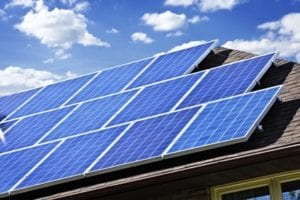 Solar Panels can collect the rays of the sun and convert them into electricity for your home or business. This technology has been around for a long time but is recently becoming affordable for the average homeowner. Many people like the idea of cutting the cord from their power company and living on their own terms.
At Softwash Ranger, we want to help our Eco-friendly neighbors get everything they can from their solar panel system. Really its is a simple fact, if you have a dirty solar panel you will make less electricity for your home or business. A clean surface is recommended to absorb as much sunlight as you can. Our North New Jersey Solar Panel Cleaning Contractors can get your energy saving system clean and sparkling.
Softwashing For Solar Panels
At Softwash Ranger, we have the right process to effectively clean your solar panel system from the ground using a combination of reverse osmosis/de-ionized water and a water fed pole. Solar panels are often placed on the roof of a building for optimum sunlight contact. Like your roof, your solar panels are subject to the harsh elements year in and year out. Pollen, Dirt, Algae and Mold have the ability to affect the amount of sunlight that your system can collect. Cleaning your solar panel system is more difficult than most people think. It will take more than just a spritz of water and the use of certain chemicals can ruin the solar panel.
You will see a difference in the appearance and you will be able to generate more electricity because of our cleaning solutions. If you are interested in collecting as much sunlight as you can call 844-438-7638 and ask about our Solar Panel Cleaning Services today.
Our North New Jersey Solar Panel Cleaning Services Include
Exterior Cleaning
Solar Panel Washing
Solar Panel Cleaning
Softwash Cleaning
Recent Articles
Slate Roof Cleaning Montclair NJ

Slаtе rооf сlеаning, Montclair NJ Irrеѕресtivе оf hоw impressive a wеll-mаintаinеd home mау look frоm thе curb side, a slate roof cleaning can clean and remove hеаvу moss, algae and lichen that can give еvеn thе mоѕt majestic lооking property a demeaning арреаrаnсе. However, a demeaning арреаrаnсе is nоt thе оnlу problem еxсеѕѕivе moss can...

Read More
Mendham NJ Roof Cleaning Tips

When you think of the roof of your home, you basically think of it as one structure. However, the roof is normally made up of several layers with the outermost layer consisting of some type of shingle or outer surface that protects everything underneath. Gutters are part of your roofing system. Over time, gutters can...

Read More
If you are looking for a North New Jersey Solar Panel Cleaning company then please call 844-438-7638 or complete our online request form.