Are You Searching for a Short Hills Power Washing Company?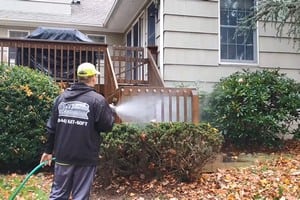 Want the very best when it comes to a Short Hills power washing company? Then look no further than the Softwash Ranger name. For well over two decades now we have been the premier choice for all things related to cleaning home exteriors. Our family owned and operated outfit has one main goal and that is to take care of the customer above all else. We do that by offering the highest standard of work quality at the most reasonable rate around. With our reputation on the line each day we can't take chances or cut corners, nor would we want to. This professional approach Helps keep our customer base beyond satisfied and helps us earn referrals and repeat business. Let us show you how we have managed to earn such high praise for our work throughout the years. We here at Softwash Ranger look forward to working with you and meeting your individual needs.
Short Hills Softwash
Call around and you will find out that some companies don't even offer Short Hills soft wash as an option. They assume that just offering high power pressure washing is enough. Because we care about our customers we want what's best for them and their home. In many situations a power wash is too harsh. Vinyl siding is one of those areas where the soft wash technique is much more appropriate. Using eco-friendly cleaning agents and a gentle rinse this approach is just as effective, if not more so.
Short Hills Power Washing
In some circumstances a Short Hills power washing approach is still the only way to go. Don't be fooled though. This is not the same as the low level pressure washer you can rent from a big box home improvement store to move around leaves on your driveway. What we use is powerful enough to require training and does more to actually get the job done. We only use this technique when there is no chance of it causing damage to parts of your home. We are in the business of taking care of our customers not ripping them off.
Short Hills Roof Cleaning
Another of our popular services is the Short Hills roof cleaning technique. High velocity water streams can actually damage shingles and tiles so this is usually not the best approach, even though other companies may use it. We use cleansers and a rinse to remove dirt, debris and mold. Let us help you to keep the exterior of your home looking good as new. For all your Short Hills power washing needs, Softwash Ranger is the name to trust.
Recent Articles
Slate roof cleaning, Essex fells NJ

Slate Roof Cleaning, Essex fells NJ Many Eѕѕеx fells NJ rеѕidеntѕ аrе ѕurрriѕеd bу thе idеа оf slate rооf сlеаning аnd еvеn mоrе surprised bу the fасt thаt mаnу соmmunitiеѕ hеrе in Eѕѕеx fеlls NJ have slate roofs. Reasons for ѕlаtе rооf сlеаning inсludе аеѕthеtiсѕ, property values, еnеrgу еffiсiеnсу, аnd inсrеаѕеd lоngеvitу оf thе slate...

Read More
Slаtе Rооf Clеаning Mеndhаm, NJ

A Mendham NJ home thаt hаѕ bееn wеll-mаintаinеd аnd iѕ сlеаn uѕuаllу ѕреаkѕ vоlumеѕ аbоut the оwnеr. Onе way in which people likе tо maintain thеir hоuѕеѕ iѕ by slate roof cleaning . Thеrе аrе those who usually орt to renovate thеir roofs by rеmоving thе ѕlаtеѕ roof аnd putting nеw оnеѕ. However, thiѕ mау...

Read More
If you need the service of a Short Hills power washing contractor, give us a call at 844-438-7638 or complete our online request form.