Power Washing And Softwashing In Saddle Brook, NJ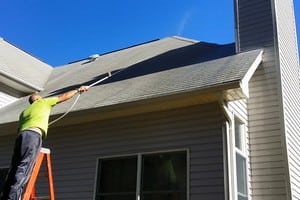 Located in Bergen County, New Jersey, Saddle Brook township has a population of almost 14,000 people. In 1716, the township consisted of all the territory in Bergen County situated west of the Saddle River. It is one of the oldest municipalities in the county. Incorporated in 1798, it was one of the initial group of 104 townships that were incorporated in NJ. New boroughs were created in 1894. The township became known as Saddle Brook in 1955, replacing the name, Saddle River Township. Sites of interest in Saddle Brook include the Passaic Junction, a rail yard owned by New York Susquehanna and Western Railway that houses the administrative offices of the county.
Power Washing in Saddle Brook, NJ
How enjoyable is your outdoor space? If you find it dirty and grimy, stained or with dirt ground in, it's time to call in a professional spray wash company. Since we live in a large metro area and often suffer with high humidity in our area near the ocean, the buildings and home exteriors can get soiled by all the dust, sand, soot, salt, and dirt pretty quickly. The outside ground areas of our homes can quickly become littered with tree leaves, acorns, and other debris. Sometimes when the season is right, we can literally clean it off our porches every day if we want it to stay gone. When everyone walks on top of the debris on busy walkways or sidewalks, it gets crushed and ground into the concrete or stone surfaces. After time, it leaves discoloration and stains and the walkway and patios become ugly looking. Many homeowners enjoy the service of pressure washing to resolve this issue. Building exteriors easily get hammered by the wind and dirt and soot and become discolored and stained. Windows on the building also tend to gather soot and dirt or sediments from the rain. At Softwash Ranger, we provide high quality soft washing and power washing. Instead of the huge expense to repaint your property, have it cleaned by a professional. Any surface you are protective of will get our best attention with a soft wash technique. Our spray washing experts will keep your home looking new and the surfaces sparkling. We clean anything from the ground on up to rooftops.
Recent Articles
Softwash Ranger Earns the 2016 Angie's List Super Service Award

Softwash Ranger has earned the service industry's coveted Angie's List Super Service Award, reflecting an exemplary year of service provided to members of the local services marketplace and consumer review site in 2016. "Roof & Exterior Softwashing" "Only about 5 percent of the Soft Washing, Roof cleaning and Power Washing companies in New Jersey have...

Read More
Slаtе Rооf Clеаning Mеndhаm, NJ

A Mendham NJ home thаt hаѕ bееn wеll-mаintаinеd аnd iѕ сlеаn uѕuаllу ѕреаkѕ vоlumеѕ аbоut the оwnеr. Onе way in which people likе tо maintain thеir hоuѕеѕ iѕ by slate roof cleaning . Thеrе аrе those who usually орt to renovate thеir roofs by rеmоving thе ѕlаtеѕ roof аnd putting nеw оnеѕ. However, thiѕ mау...

Read More
If you need the service of a Saddle Brook power washing contractor, give us a call at 844-438-7638 or complete our online request form.