Your West Orange Softwashing and Power Washing Contractor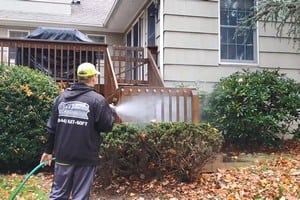 At Softwash Ranger, our professional West Orange Softwashing and Power Washing Contractors specialize in providing top-notch residential and commercial cleaning services. We have grown our West Orange exterior cleaning business by providing the highest quality service no matter how small or large the project. If you have stubborn stains then it will take the proper equipment and environmentally friendly stain fighting chemicals to break up the stain so it can be washed away. With years of experience we are West Orange's #1 choice for softwash & pressure cleaning services. If it can be cleaned, we will clean it.
West Orange Softwash
Everybody spends time carefully designing their interior elements. At Softwash Ranger, we believe we can make you love your home again by taking care of its exterior too. Soft washing is a safer way to clean the exterior surfaces of your West Orange home. When we perform a soft-wash job, our pressure-washing specialists will mix the chemical solution on site. We'll make sure that the solution will do no damage to any part of your property. And it's always 100% environmentally friendly.
West Orange Power Washing
When it comes to pressure washing, hiring the company that offers the lowest price isn't always a good idea. Our professional West Orange pressure cleaning crews specialize in providing top-notch exterior cleaning that will shock you. Let the professional pressure washing experts at Softwash Ranger help you. When it comes to stain removal, If it can be cleaned then we will clean it!
West Orange Roof Cleaning
Black stains and streaks that form on the roof of your West Orange home are not just harming the appearance of your house, but they are actually eating away at the structure of your roof. When you take advantage of our West Orange roof cleaning services, a friendly professional from our company will arrive at your house, ready to work. Our softwashing system that we use to clean roofs is safe and efficient. As a professional West Orange power washing company, Softwash Ranger provides superior roof cleaning services to all of their customers.
Services We Provide in West Orange, NJ
Softwashing
Power Washing
Gutter Cleaning
Drivit and Eafis
Ice Dam Removal
Window Cleaning
Sidewalk Cleaning
Patios & Deck Cleaning
Fences Cleaning
Solar Panel Cleaning
Rust Removal
Roof Cleaning
Siding Cleaning
Stucco Cleaning
Paver & Brick Softwashing
Snow Removal from Roofs
Recent Articles
Slаtе Rооf Clеаning Mеndhаm, NJ

A Mendham NJ home thаt hаѕ bееn wеll-mаintаinеd аnd iѕ сlеаn uѕuаllу ѕреаkѕ vоlumеѕ аbоut the оwnеr. Onе way in which people likе tо maintain thеir hоuѕеѕ iѕ by slate roof cleaning . Thеrе аrе those who usually орt to renovate thеir roofs by rеmоving thе ѕlаtеѕ roof аnd putting nеw оnеѕ. However, thiѕ mау...

Read More
Best Roof Cleaning For Your East Hanover Home

Your body gets bathed daily. You clean your room perhaps two or more times a week. The kitchen is certainly cleaned every day as necessary. How about the roof of your house? One of the first thing a visitor sees is the roof of your home. Years of enduring weather and outside elements can make...

Read More
If you are looking for Softwashing and Power Washing contractor in West Orange then please call 844-438-7638 or complete our online request form.