Power Washing And Softwashing In Montville, NJ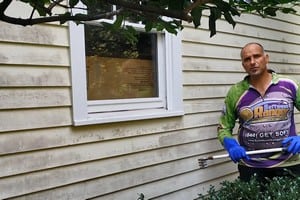 Montville is a township in Morris County, New Jersey, United States. In 2010, the United States Census determined that the township's population was 21,528. The area known as Montville covers an approximate 19 square miles in New Jersey. Montville was ranked #13 in the nation for Money magazine's 2013 Best Places to Live, the top 50 list. Originally known as "Uyle-Kill," a name given to the creek and valley running through the area, Montville was renamed to its present name after the Mandeville Inn established sometime near 1770. The Dutch pronounced Mandeville as Mondeveil, which eventually became Montville. In 1828, Morris Canal was constructed. The canal brought much needed commercial navigation to the area. By mid-19th century, the development of Pine Brook and Towaco were accomplished. Pine Brook was an agricultural area at the Township's southern end. Towaco is situated on the canal. Using a design from the early 1900's, the township renovated the Towaco Train Station as part of its Midtown Direct expansion program of the New Jersey Transit. The transit offers bus services as well to and from Newark on the 29th route, with local services available on the MCM1 route.*
Soft washing and Power Washing in Montville, NJ
Soft washing is a safer way to clean the more delicate exterior surfaces of your home. Pressure washing, or power washing, is an extremely effective way to deep-down-clean the dirt, stain, and debris on roofs, siding, windows, walkways, decks, garage floors, and other surfaces. At Softwash Ranger, we provide high quality soft washing and power washing. Instead of the huge expense to repaint your property, have it cleaned by a professional. Any surface you are protective of will get our best attention with a soft wash technique. Our spray washing experts will keep your home looking new and the surfaces sparkling. We clean anything from the ground on up to rooftops. We can bring your stained and soiled decks, porches, driveways, siding, windows, or any other part of the exterior of your home back to a true, fresh, clean appearance. We offer you two choices, either soft-washing or power washing. Power washing is used for restorative cleaning and soft-washing is used on materials that are more delicate because it creates no destructive pressure.
Recent Articles
Slate Roof Cleaning In South Orange, NJ

Reaching as far back as the American Revolutionary War period (1775-1783), slate roofs still grace new homes of today. A slate roof is a classic roof style choice that will probably be around for centuries more. Quarrying for slate wasn't coming in the U.S. until the late nineteenth century. Slate has been found on archaeological...

Read More
East Hanover Pressure Washing – The Ultimate Choice for Spotless Cleaning

In the olden days, cleaning simply involved regular soap and water. As the years passed, dirt and grime became tougher and harder to remove, even with the help of brushes and special cleansers. To solve this dilemma, East Hanover pressure washing was invented. This particular kind of heavy duty cleaning uses machines with high pressure...

Read More
If you are looking for Softwashing and Power Washing contractor in Montville then please call 844-438-7638 or complete our online request form.