LOOKING FOR THE SERVICE OF A MONTCLAIR POWER WASHING AND SOFTWASHING CONTRACTOR?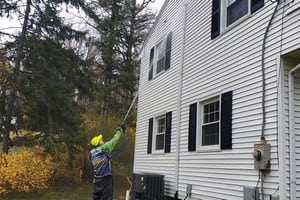 If you haven't had a recent visit from a softwashing and power washing contractor, then you should see about having your Montclair home cleaned by the power washing experts at Softwash Ranger. We can eradicate any dirt, grime, mildew, or mold that has built up on your home's exterior with ease. These organisms cause ugly black streaks on your roof, driveways, and siding, and can cause the components in your home's construction to degrade faster as well as bring down your home's value due to their aesthetic harm. You can prevent this from being a problem with a regularly scheduled visit from a power washing and softwashing contractor. Having a softwashing and power washing contractor visit your home will help bring back that brand new home feel to your exterior, and is an easy and affordable way to bring back your curb appeal and give your home's value a shot in the arm. When your Montclair home is in need of cleaning, get the assistance of the softwashing and power washing professionals at Softwash Ranger.
Montclair Softwash
If your home exterior is dirty then that is the perfect reason to give Sfotwash Ranger a call. We use tried and proven methods with specialized softwashing chemicals to remove harmful organisms like algae or mildew that have begun to grow on the outside of your home. You do not want to leave these kinds of organisms untreated as they can cause your home to degrade faster, causing lasting damage, as well as hurting your property value. We can rinse away this grime using special eco-friendly chemicals that break down this organic matter without any threat to the environment or the outside of your home. With a single visit from one of our softwashing professionals we will eradicate this build-up using special equipment, eliminating this grime to have your home looking like new again.
Montclair Power Washing
At Softwash Ranger we have the right equipment and know-how to take care of all of the unsightly stains, grease, and oil that has built up on your driveway or sidewalk. With proper power washing equipment we can eradicate this buildup without any risk to the outside of your home. We'll have your concrete surfaces looking great again, as if they were freshly poured. When you're looking to sell your home, make certain you get a full pressure washing conducted to improve your curb appeal and attract the interest of potential buyers. If you are in need of the services of a power washing professional, you should contact our experienced staff.
Montclair Reviews
Softwash Ranger is Rated: 5 / 5
based on these 3 happy customer reviews.
---
"We are very happy with the excellent work Mario and his team on our home. The house had been power washed five years ago and was needing a cleaning very badly. I wasn't sure about the Softwash system, but after seeing a neighbors home that Mario had just done, I was convinced. Do not hesitate to give them a call!"
---
"Softwash ranger was cleaning a neighbor's home and I watched as they cleaned silently. I wondered where's the power washing noise. I walked over and talked to Mario and he explained all the benefits of softwashing my aluminum sided house. He gave me a written estimate on the spot. He showed up on time and did a great job on my home. I will be calling him when it is time for a roof cleaning."
---
"I used softwash ranger to clean our painted cedar house. I chose softwashing because power washing would blast the paint off of my old cedar siding. The results were fantastic. I went from thinking I needed to paint my home to just doing some touch ups. I would wholeheartedly recommend their services to anyone!"
---
Recent Articles
What You Need to Know About Morristown Ice Dam Removal

More than likely, if you have lived in the Morristown area for any length of time then you are already aware of what an ice dam in Morristown is. But, in case you are not already familiar with this winter related condition it helps to know a little more about it. This is the collection...

Read More
Benefits of Having a Clean Roof

Let's face it. Nobody likes a dirty roof. Not your neighbors, not your family, not prospective homebuyers, and neither do you. A dirty roof is more less an eye sore on your entire house. Having a dirty roof is the equivalent of not making your bed. You can clean around it, but it's...

Read More
If you need the service of a Montclair power washing contractor, give us a call at 844-438-7638 or complete our online request form.