ARE YOU LOOKING FOR THE ASSISTANCE OF A MADISON, NJ POWER WASHING AND SOFTWASHING CONTRACTOR?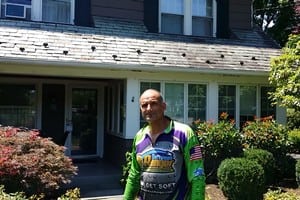 Scheduling an appointment with an exterior cleaning contractor will have an incredible effect on the appearance of your home. A single visit from a soft washing and power washing professional will rinse away grime, dirt, rust and stains that have built up over the course of a year and give your home a new lustrous appearance. A simple visit from a contractor will have your home looking great, and even boost your curb appeal. For an unparalleled customer service experience, you need to contact our low-pressure washing professionals. We take each job seriously and are proud of the reputation that we have established. Schedule a visit from the soft washing experts at Softwash Ranger and see how our regular or annual cleaning services can make a difference in the presentation and preservation of your home.
Some of the other services that we offer include:
• Power Washing • Snow Removal • Roof Snow Removal • Ice Dam Removal • Tennis Court Cleaning • Rust Removal • Graffiti Removal
Madison Softwash
If the exterior of your home is dirty, then you need to give Softwash Ranger a call. We utilize methods that have been tried and proven along with special chemicals that can rinse away harmful organisms such as mold, mildew, and algae, while remaining safe to both the environment and the exterior of your home. Allowing mold and algae to grow on your home will cause the exterior to deteriorate faster and in some cases result in dangerous water damage, lowering your home's resale value. To keep the exterior of your home looking great, treat it to a visit from the low-pressure soft washing experts!
Madison Power Washing
If you have had a build-up of rust, oil, and mildew on your walkways and driveways, then this is an excellent time to have them cleaned. These stains don't have to linger, despite how difficult it may seem to be to remove them through standard cleaning methods. With a single visit from a power washing professional, we can restore that new freshly poured luster to your concrete surfaces. When having these services performed, you need to get them done by a licensed and insured contractor, as not taking proper precautions can result in damage to your concrete's surface. At Softwash Ranger, we have the right tools and know-how to prevent any damage and eradicate even the toughest concrete stains.
Recent Articles
How to Choose a Roof Cleaning Contractor in North Caldwell New Jersey

In order to keep your home looking new or keep it safe from damages done by ice storm or snow buildups, you'll want a professional North Caldwell New Jersey roof cleaning contractor. Roof cleaning plays a major role in ice removal, removing snow, ice-dam removal, and debris or stain removal. With a freshly cleaned roof,...

Read More
What You Need to Know About Morristown Ice Dam Removal

More than likely, if you have lived in the Morristown area for any length of time then you are already aware of what an ice dam in Morristown is. But, in case you are not already familiar with this winter related condition it helps to know a little more about it. This is the collection...

Read More
If you are in the need of a Madison power washing contractor, give us a call today at 844-438-7638 or complete our online request form.