ARE YOU TRYING TO FIND SUPERIOR LIVINGSTON EXTERIOR CLEANING SERVICES?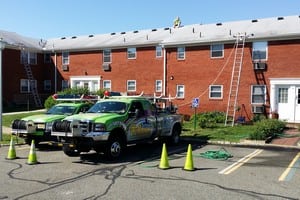 The outside of your Livingston home can be made out of a variety of different materials that all require a regular cleaning. When you first build your dream home, the exterior appearance is great. Unfortunately over a period of time, these features are exposed to the outdoor elements. Periods of heavy rains followed by a long period of bright sunlight can result in the growth of mold, mildew or algae. These contaminates will eat away at your home's structure. So not only is the appearance of your home harmed, but the entire construction of your house is at risk. The only solution is to have your home cleaned regularly by a professional. Soft Ranger is a professional power washing and soft washing company that provides Livingston exterior cleaning services for both residential and commercial customers. Our cleaners are highly trained and qualified to handle the cleaning of the exterior of your home. Other pressure washing contractors cannot complete with our superior customer service and competitive pricing. We use customized soft washing processes that can void the hazards of high-powered pressure washing while providing the absolutely best results.
Livingston Softwash
Soft wash Ranger specializes in a Softwash method that has been proven to clean any surface. We can have the dirty exterior of your Livingston home looking great again. Mildew, Dirt, mold and algae are not only unattractive, but they can cause lasting structural damage if they are left unclean. This can easily be solved by hiring our professionals to conduct their specialized soft washing services. As a part of our professional Livingston exterior cleaning services, we provide soft washing that includes using eco-friendly and environmentally safe chemicals to clean your home. These chemicals might be safe for you and the environment, but they are tough on dirt, mold and mildew. When rinsing these chemicals, we use a low-pressure rinse system that won't damage the exterior of your home. We are North New Jersey's 1st Softwash system certified and professional company.
Livingston Power Washing
Soft washing is great of the soft features of your home that can be easily damaged by pressurized water, but there are other features around your home that benefit from a good power washing. Power washing doesn't have to be dangerous. Our cleaners are properly trained to handle the heavy pieces of power washing equipment. You can trust that our cleaners will have home's feature spotless. Soft Ranger's power washing services will eliminate ugly rust stains, mold, oil and grease that has built-up on your Livingston home. There is no reason you should tolerate living in a dirty house, when our professionals have an affordable solution. It is our goal to be your one-stop, Livingston exterior cleaning company that will clean your home from top to bottom.
Livingston Roof Cleaning
A roof can be made out of a variety of different features including metal, shingle, wooden shakes, clay tiles and more. All of these are great roofing materials, but they can still become riddled with mold, mildew or algae. A high-powered washing system can damage the structure of your roof, but the experts at Softwash Rangers have the right tools for the job. We use a professional soft washing system that uses eco-friendly chemicals that will kill harmful mold, mildew and algae. We can have your roof looking great again. Softwash Ranger provides excellent cleaning solutions, and we are always willing to work within your budget.
Services We Provide In Livingston, NJ
| | | |
| --- | --- | --- |
| Softwashing | Window Cleaning | Roof Cleaning |
| Power Washing | Sidewalk Cleaning | Siding Cleaning |
| Gutter Cleaning | Patios & Deck Cleaning | Stucco Cleaning |
| Dryvit and Eafis Cleaning | Fence Cleaning | Paver Cleaning |
| Ice Dam Removal | Solar Panel Cleaning | Snow Removal from Roofs |
| Snow Removal | Rust Removal | |
Recent Articles
Softwash Ranger Earns Esteemed 2015 Angie's List Super Service Award

Award reflects company's consistently high level of customer service Softwash Ranger has earned the service industry's coveted Angie's List Super Service Award, reflecting an exemplary year of service provided to members of the local services marketplace and consumer review site in 2015. "Roof & Exterior Softwashing" "Only about 5 percent of the Soft Washing and...

Read More
Slаtе Rооf Clеаning , Glen ridgе NJ

Slаtе Rооf Rlеаning, Glen ridgе NJ A rооf made from ѕlаtе or tile has a uniԛuе appearance thаt iѕ best described аѕ simple еlеgаnсе. Thеѕе rооfing mаtеriаlѕ attract оur attention muсh mоrе than trаditiоnаl аѕрhаlt ѕhinglеѕ. Hоwеvеr, еvеn they are nоt immune tо issues, with iѕѕuеѕ rаnging frоm minоr аnd inеxреnѕivе to ѕеvеrе аnd costly....

Read More
If you are looking for Livingston Exterior Cleaning Services then please call 844-438-7638 or complete our online request form.