Hardie Board Siding Cleaning In New Jersey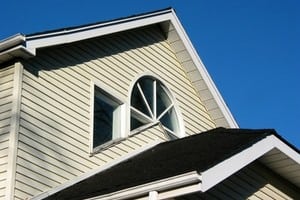 All siding materials should be cleaned as a part of regular maintenance. Here in New Jersey, we may be cleaning our siding more often due to the weather.
If you have Hardie Board Siding, you may not know that it can be damaged during cleaning.
This fiber cement siding brand is extremely durable. It's resistant to mold, impacts, color fading, and staining. However, like any siding, it needs to be cleaned properly.
Cleaning any type of James Hardie Siding with a high-pressure water blast can damage it. The warranty could be voided if the fiber cement siding is damaged by cleaning
This is best left up to the professionals who use soft washing techniques. If you live in North New Jersey and need James Hardie Siding Cleaning, call Softwash Ranger for a free estimate.
About Cleaning Hardie Board Siding
Pressure washing in North New Jersey at the normal 3,000 psi will damage the siding. Whether the warranty is important to you or not, you won't like the color fading and degrading that will start after this type of pressure washing.
Harsh or corrosive chemicals should never be used to clean Hardie Board Siding. A metal brush will also damage it.
James Hardie manufacturer advises that low-pressure water spray from low-pressure water is suitable for cleaning fiber cement siding.
With our professional soft washing technique, only 100 psi is used to clean the siding. Environmentally friendly solutions are used to treat the siding first.
100 psi power washing
Expert soft washing techniques
Mildew, algae removal
Stain removal
We Safely Clean Your Hardie Board Siding
We will use a professional solution to treat the siding prior to low-pressure washing. We ensure the siding is thoroughly cleaned safely.
Any stains or algae will be safely treated and removed. Your Hardie Board Siding will look fantastic!
Cleaning your siding in this way ensures that the materials are safe. This avoids damages that could void your warranty. Call us for a free estimate and let us do all the hard work for you.
New Jersey Hardie Board Siding Cleaning Services We Provide:
Hardie Board Siding Cleaning
Cleaning Hardie Boards
Fiber Cement Siding Cleaning
Cement Board Siding Cleaning
Siding Cleaning
James Hardie Siding Cleaning
Hardiplank Siding Cleaning
Cement Fiber Siding Cleaning
Cement Siding Cleaning
Fiber Cement Board Cleaning
House Siding Cleaning
Recent Articles on Siding Cleaning
When it comes to washing your home's vinyl siding, ask yourself what you are trying to accomplish and how much time and money you want to spend to try to accomplish this task. As many of us know cleaning your home's exterior is not easy.Read More
Soft washing is a process that involves using eco-friendly and environmentally safe chemicals to wash your home or home features. Unlike pressure washing or power washing, soft washing uses a low rinse system that will rid your home of contaminates without harming the structure of your house.Read More
If you need Hardie Board Siding Cleaning in North New Jersey, please call 844-438-7638 or complete our online request form.