North New Jersey Gutter Cleaning Service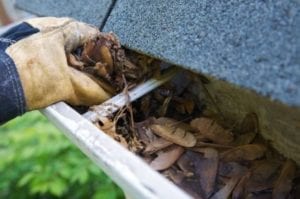 Regular gutter maintenance is overlooked because they are not eye level and if you can not see a problem then you don't think there is a problem. The purpose of rain gutters is to collect water and divert it away from your home or business. Gutter debris cleaning is an essential part of maintaining both the appearance and integrity of your gutter system.
We realize gutter cleaning is not brain surgery but it can be a dangerous proposition and our experience separates us from the rest. There should always be an awareness of a falling potential when ladders are involved. Our North New Jersey Gutter Cleaning contractors will clean, flush your gutters and remove all the debris, leaving your gutters clean and looking new.
Why Gutter Cleaning Is Important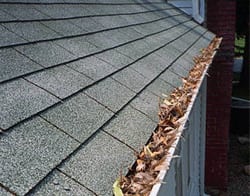 Gutters are one of the most neglected when it comes to regular maintenance, but they should be the most important. By not constantly cleaning your gutter system, you start to create a water drainage crisis for your home or business. The primary reason that rain gutters are installed is to protect the foundation of your building from excessive water buildup. If water is allowed to collect next to your home or business then your foundation can become waterlogged. A waterlogged foundation can cause foundation cracks, flooding basements, wood rot, and insect infestation. So if your gutter system is clogged by twigs, leaves, and dirt then it is time to call Softwash Ranger and ask about our gutter cleaning services today!
Reasons For Gutter Cleaning In North New Jersey Include
Water Flow Diversion Away From Foundation
Removal of WDOs (wood destroying organisms) From Gutters (carpenter ant nests, worms, fungus and algae)
Prevention of Ice Dams
Our North New Jersey Gutter Cleaning Services Include
Gutter Cleaning
Rain Gutter Cleaning
Gutter Washing / Brightening Whitening
Downspout Cleaning
Gutter Maintenance
Clogged Gutter Cleaning
Ice Dam Removal
Recent Articles
Benefits of Having a Clean Roof

Let's face it. Nobody likes a dirty roof. Not your neighbors, not your family, not prospective homebuyers, and neither do you. A dirty roof is more less an eye sore on your entire house. Having a dirty roof is the equivalent of not making your bed. You can clean around it, but it's...

Read More
Softwash Ranger Earns Esteemed 2015 Angie's List Super Service Award

Award reflects company's consistently high level of customer service Softwash Ranger has earned the service industry's coveted Angie's List Super Service Award, reflecting an exemplary year of service provided to members of the local services marketplace and consumer review site in 2015. "Roof & Exterior Softwashing" "Only about 5 percent of the Soft Washing and...

Read More
If you are looking for a Gutter Cleaning Service in North New Jersey then please call 844-438-7638 or complete our online request form.