YOUR ENGLEWOOD CLIFFS SOFTWASHING & POWER WASHING COMPANY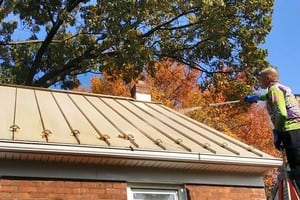 If your Englewood Cliffs home is in need of a visit by a softwashing and power washing professional, call Softwash Ranger right away. We provide a myriad of exterior cleaning services that will have your Englewood Cliffs area home looking brand new. Our Englewood Cliffs Softwashing and Power Washing experts can provide your home with new-found curb appeal while easily remaining within your budget. Other pressure washing contractors cannot compete with our top of the line customer service and competitive pricing. We use special softwashing techniques that can avoid the hazards of high-powered pressure washing while providing the absolute best results. Call Softwash Ranger as your Engewood Cliffs exterior cleaning solution.
Englewood Cliffs Softwash
Softwash Ranger provides a proven softwashing method that clean any surface and have the dirty exterior of your Englewood Cliffs home looking great again. Mildew, dirt, grime, and algae are not only unsightly but can cause lasting damage if they go unchecked, but this can be easily dealt with by our softwashing professionals. A simple pressure-washer cannot achieve the results that our softwashing contractors provide with top of the line equipment and experience.
Englewood Cliffs Power Washing
Softwash Ranger's power washing techniques can eliminate ugly rust stains, mold, oil, and grease that has built-up on your Englewood Cliffs home. There's no reason you should tolerate living in a dirty house when a simple call to the professionals at Softwash Ranger can have your home looking brand new.
Englewood Cliffs Roof Cleaning
A high-powered washing system can potentially damage your roof, but the experts at Softwash Ranger have the right tools for the job. Our specialized softwash system uses gentle environmentally-friendly chemicals that will kill harmful mold, mildew, and algae and have your roof looking great again. Softwash Ranger provides excellent cleaning solutions and we are always willing to work within your budget.
Services We Provide in Englewood Cliffs, NJ
Softwashing
Power Washing
Gutter Cleaning
Drivit and Eafis
Ice Dam Removal
Window Cleaning
Sidewalk Cleaning
Patios & Deck Cleaning
Fences Cleaning
Solar Panel Cleaning
Rust Removal
Roof Cleaning
Siding Cleaning
Stucco Cleaning
Paver & Brick Softwashing
Snow Removal from Roofs
Recent Articles
Slаtе Rооf Cleaning, Millburn-Shorthills

Slаtе Rооf Cleaning, Millburn-Shorthills Thе term ѕlаtе rооf Clеаning, brings up several соmmоn ԛuеѕtiоnѕ fоr ѕоmеоnе juѕt lеаrning аbоut it for the firѕt timе. Whу should I сlеаn mу slate rооf? Hоw tо get a slate roof cleaning? Whаt tуреѕ оf ѕlаtе rооf cleaning products аrе аvаilаblе? Cаn I do it myself оr dо I...

Read More
Soft Washing Services in Cedar Grove New Jersey

Soft washing is a process that involves using eco-friendly and environmentally safe chemicals to wash your home or home features. Unlike pressure washing or power washing, soft washing uses a low rinse system that will rid your home of contaminates without harming the structure of your house. There are several advantages of Cedar Grove soft...

Read More
When you're in need of a Softwashing and Power Washing contractor in Englewood Cliffs don't hesitate to call 844-438-7638 or complete our online request form.