North New Jersey Stucco Cleaning Solutions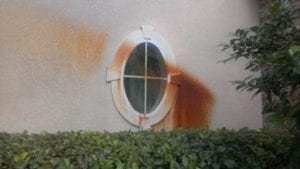 Let's face it: grime, mold and other dingy growths can make your stucco exterior look underwhelming and unattractive. Stucco is not a smooth material. The different textures and small crevices are the perfect place for algae, mold, and dirt deposits to collect and spread.
The exterior of your building is the first impression to any visitor, so we've made it our business to make sure it looks as good as possible. If you are thinking that using a simple pressure washer will fix your problem you should think again. A Pressure Washer could cause more damage than good to a material like stucco. That is why we provide our Stucco Cleaning Services for the North New Jersey area. You can rely on Softwash Ranger for top quality results and the type of clean you'll notice immediately!
PROSESSIONAL STUCCO CLEANING DEMONSTRATION:
Stubborn Stains on Stucco
A proper and professional stucco softwashing and cleaning can restore your stucco's pristine finish, making it look as though you've just had it installed. With our extensive training and experience, we'll be able to custom-mix a solution for washing your specific exterior on site, so that you know your building is being treated properly. Don't mask the situation with ineffective chemicals or pressure washers. Give us a call and get the problem solved correctly the first time. If you would like to learn more about our Stucco Cleaning Service then give us a call at 844-438-7638 today!
Our North New Jersey Stucco Cleaning Services Include
Stucco Exterior Cleaning
Stucco Washing
Stucco Cleaning
Mold & Mildew Removal
Stucco Softwashing
Recent Articles
Roof Cleaning in Wayne, NJ

All it takes is to drive through a large neighborhood to find at least one house that has roof stains or debris accumulating on the roof. When all the homes in the neighborhood are well kept, including the roof stained ones, this tells us that roof tops aren't always thought of as an item that...

Read More
Soft Washing Services in Cedar Grove New Jersey

Soft washing is a process that involves using eco-friendly and environmentally safe chemicals to wash your home or home features. Unlike pressure washing or power washing, soft washing uses a low rinse system that will rid your home of contaminates without harming the structure of your house. There are several advantages of Cedar Grove soft...

Read More
If you are looking for Stucco Cleaning Contractor in North New Jersey then please call 844-438-7638 or complete our online request form.