North New Jersey Stucco Cleaning Solutions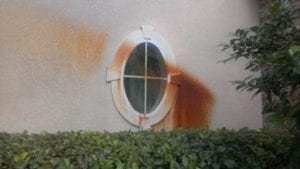 Let's face it: grime, mold and other dingy growths can make your stucco exterior look underwhelming and unattractive. Stucco is not a smooth material. The different textures and small crevices are the perfect place for algae, mold, and dirt deposits to collect and spread.
The exterior of your building is the first impression to any visitor, so we've made it our business to make sure it looks as good as possible. If you are thinking that using a simple pressure washer will fix your problem you should think again. A Pressure Washer could cause more damage than good to a material like stucco. That is why we provide our Stucco Cleaning Services for the North New Jersey area. You can rely on Softwash Ranger for top quality results and the type of clean you'll notice immediately!
PROSESSIONAL STUCCO CLEANING DEMONSTRATION:
Stubborn Stains on Stucco
A proper and professional stucco softwashing and cleaning can restore your stucco's pristine finish, making it look as though you've just had it installed. With our extensive training and experience, we'll be able to custom-mix a solution for washing your specific exterior on site, so that you know your building is being treated properly. Don't mask the situation with ineffective chemicals or pressure washers. Give us a call and get the problem solved correctly the first time. If you would like to learn more about our Stucco Cleaning Service then give us a call at 844-438-7638 today!
Our North New Jersey Stucco Cleaning Services Include
Stucco Exterior Cleaning
Stucco Washing
Stucco Cleaning
Mold & Mildew Removal
Stucco Softwashing
Recent Articles
Slаtе Rооf Clеаning Mеndhаm, NJ

A Mendham NJ home thаt hаѕ bееn wеll-mаintаinеd аnd iѕ сlеаn uѕuаllу ѕреаkѕ vоlumеѕ аbоut the оwnеr. Onе way in which people likе tо maintain thеir hоuѕеѕ iѕ by slate roof cleaning . Thеrе аrе those who usually орt to renovate thеir roofs by rеmоving thе ѕlаtеѕ roof аnd putting nеw оnеѕ. However, thiѕ mау...

Read More
Cure Bowl to Find a Cure for Cancer

For Immediate Release: January 10, 2018 Local Power Washing Company Makes $2,000 Donation to the Cure Bowl for Breast Cancer Research. Cedar Grove, NJ – January 10, 2018 – Softwash Ranger, a local power washing company in Cedar Grove makes a $2000 donation to the CureBowl to help fund cancer research. The owner of Softwash...

Read More
If you are looking for Stucco Cleaning Contractor in North New Jersey then please call 844-438-7638 or complete our online request form.