Roof Snow Removal Professionals in North New Jersey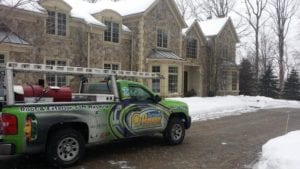 Every year our roofs get bombarded with thick blankets of snow. Some homeowners believe that having that snow on there roof is no problem for them. That is until their roof caves in! We have all seen the devastating effects of heavy snow on a roof. Many homeowners attempt to clear the snow off themselves. At Softwash Ranger, we offer the North New Jersey area affordable Roof Snow Removal Services.
Roof Snow Removal is not a job for amateurs. Our professional roof snow removal experts know how to properly remove the snow from your roof safely. We have experience in removing snow from every roof type without causing damage to the roofing structure. When you need help with the snow blanket on your roof then give Softwash Ranger a call.
Roof Snow Removal Can Prevent Ice Dams
It is recommended to have the snow removed from your roof after a big snow storm. Ignoring the snow on your roof will only lead to costly repairs that are completely avoidable. Ice dams are commonly formed after snow storms and pose a real threat to your home. Ice dams trap snow on your roof creating a heavy burden on your roofing structure. If the snow is not removed inevitability your roof will collapse. Protect your home from avoidable damage and call Softwash Ranger at 844-438-7638 for Roof Snow Removal Services.
Our North New Jersey Roof Snow Removal Services Include
Residential Roof Snow Removal
Commercial Roof Snow Removal
Recent Articles
How to Choose a Roof Cleaning Contractor in North Caldwell New Jersey

In order to keep your home looking new or keep it safe from damages done by ice storm or snow buildups, you'll want a professional North Caldwell New Jersey roof cleaning contractor. Roof cleaning plays a major role in ice removal, removing snow, ice-dam removal, and debris or stain removal. With a freshly cleaned roof,...

Read More
Caldwell, NJ Patio Cleaning Done Right

This is a great time of year here in New Jersey when we start to see the sun shining more and the temperatures rising to a degree we can tolerate. Warm summertime is right around the corner, which means spring is in the air. Many homeowners are outside their homes doing plenty of clean up...

Read More
If you are looking for Roof Snow Removal Service in North New Jersey then please call 844-438-7638 or complete our online request form.