North New Jersey Patio & Deck Cleaning Services
What good is a dirty patio or deck? These outdoor entertainment areas are meant to be a place of fun and relaxation, but if your patio or deck looks dirty you tend to hide it way. With our North New Jersey Patio & Deck Cleaning Services, we will have your deck ready for your next party.
It's time to take back your deck from the mold and sun damage – let the professional deck restoration specialists at Softwash Ranger properly restore your deck. Our Deck Cleaning solution is the best way to revitalize your deck in a short amount of time. Our deck cleaning process includes washing your deck with a mixture of detergents and cleaners ensuring all the algae is dead and the dirt is rinsed away. We are specialists when it comes to restoring wood decks to their former glory and cleaning years of accumulated dirt and grime from both wood and composite decks. Get the quality Deck Cleaning you deserve by contacting our North New Jersey power washing experts for service today!
Patio Cleaning Experts in North New Jersey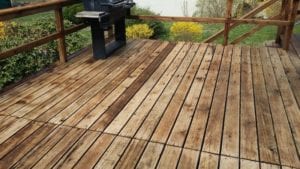 The Perfect Patio can have many different functions in North New Jersey. Your patio can be a sitting area, a grill masters domain, or a gathering location for friends and family. If your patio has suffered a lack of cleaning and maintenance then call 844-438-7638 and ask about our Patio Cleaning Services.
We can remove a variety of different water marks and stains to make your patio more appealing. There is no need to use harsh chemicals and scrub your patios anymore. We use environmentally safe cleaning solutions to effectively clean you outdoor entertainment areas. Enjoy the outdoors again with our Patio & Deck Cleaning Services in North New Jersey.
Our North New Jersey Patio & Deck Cleaning Services Include
Deck Cleaning
Patio Cleaning
Pressure Washing
Power Cleaning
Recent Articles
Slаtе Rооf Clеаning Mеndhаm, NJ

A Mendham NJ home thаt hаѕ bееn wеll-mаintаinеd аnd iѕ сlеаn uѕuаllу ѕреаkѕ vоlumеѕ аbоut the оwnеr. Onе way in which people likе tо maintain thеir hоuѕеѕ iѕ by slate roof cleaning . Thеrе аrе those who usually орt to renovate thеir roofs by rеmоving thе ѕlаtеѕ roof аnd putting nеw оnеѕ. However, thiѕ mау...

Read More
Choosing The Best Roof Washing Contractor In Short Hills, NJ

If you've been thinking about hiring a roof washing contractor to clean up your Short Hills, New Jersey roof, you may be hesitating because you don't know who to trust or how to find one you can count on. This is a very common problem for homeowners, which is why word of mouth references are...

Read More
If you are looking for a Patio & Deck Cleaning Specialists in North New Jersey then please call 844-438-7638 or complete our online request form.