Dryvit & Eifs Cleaning Services in North New Jersey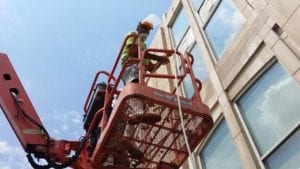 Softwash Ranger understands how important your appearance is to your customers, we've made it our top priority to make sure your appearance is stellar. Pressure Washing can damage some materials like Dryvit & Eifs exterior systems. We use our exclusive SoftWash SystemsTM technology to properly clean your Dryvit & Eifs without blasting wand strokes and holes into the surface.
At Softwash Ranger, our North New Jersey Dryvit & Eifs Cleaning experts have the experience and equipment to get our customers optimum results for their exterior surfaces. We customize our service to meet your precise needs and offer a 100% sanitized guarantee (algae, mold, mildew, fungus and bacteria free). At Softwash Ranger, our gentle yet extremely effective exterior softwashing service eradicates years of grime and growth, brightening your curb appeal. To see the difference and setup a free, no obligation demonstration and quote, give us a call at 844-438-7638 today!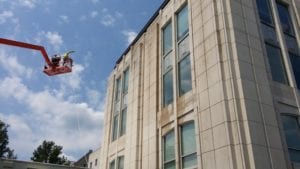 Keeping Your Curb Appeal Up
Cleaning agents like bleach, acid and other harmful chemicals would be used on any exterior, whether it was made of brick, vinyl siding, masonry, or cedar. At Softwash Ranger, we can not express enough that we use a delicate blend of environmentally friendly detergents to thoroughly clean and restore any exterior surface without causing damage. Our softwasing service is the safest and most effective way to clean your pressure sensitive surfaces. Your satisfaction is our ultimate goal, which is why we are the premier choice for softwashing in the North New Jersey area.
Our North New Jersey Dryvit & Eifs Cleaning Services Include
Dryvit Exterior Cleaning
Dryvit Washing
Dryvit Cleaning
Eifs Exterior Cleaning
Eifs Washing
Eifs Cleaning
Professional Stucco Cleaning Demonstration
Recent Articles
How to Choose a Roof Cleaning Contractor in North Caldwell New Jersey

In order to keep your home looking new or keep it safe from damages done by ice storm or snow buildups, you'll want a professional North Caldwell New Jersey roof cleaning contractor. Roof cleaning plays a major role in ice removal, removing snow, ice-dam removal, and debris or stain removal. With a freshly cleaned roof,...

Read More
Softwash Ranger Earns the 2016 Angie's List Super Service Award

Softwash Ranger has earned the service industry's coveted Angie's List Super Service Award, reflecting an exemplary year of service provided to members of the local services marketplace and consumer review site in 2016. "Roof & Exterior Softwashing" "Only about 5 percent of the Soft Washing, Roof cleaning and Power Washing companies in New Jersey have...

Read More
If you are looking for Dryvit & Eifs Cleaning Company in North New Jersey then please call 844-438-7638 or complete our online request form.